Hello


Beach Chair Umbrella - Beach Sun Shade Anywhere
What you will love about a beach chair umbrella is that you can have shade anywhere. Here are some other reasons why you will want to pack this piece of essential beach gear when you visit your favorite piece of sand.
1. Lightweight
It's lightweight and there is no need to lug around a heavy beach umbrella, tent or canopy.
2. Portable
You can sit anywhere you want in the shade - near the waterfront with your feet in the water or near your sun loving friend on the sand.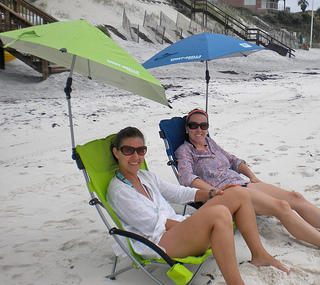 3. Inexpensive
A beach chair umbrella costs much less than a large one that accommodates several people
4. Tilts
Get one that tilts, bends and rotates in any direction so no matter where the sun is - you have protection from the harmful UV rays.
If you'd like to have your own personal piece of beach sun shade, invest in a beach chair umbrella or canopy for anytime, anywhere sun protection.