Hello


Beach Canopy Tent For Cool Shade and UV Protection
Without shade at the beach a family can bring home more than just sand - sunburn, dehydration, and dry skin to name a few. On the other hand a long day at the beach is not only possible but pleasant with beach shade tents - cooler temps, less eye strain and glare from the sun, UV protection for your skin and a place to stay dry during a quick pop up shower.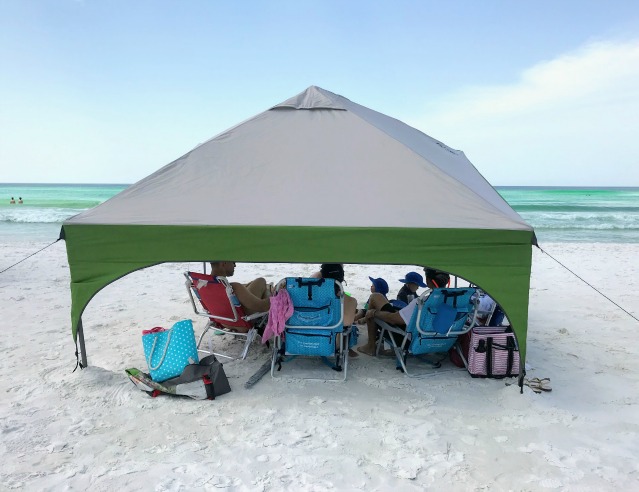 The type of shade you bring on your beach vacation depends on:
1. How You are Traveling

Are you traveling by car or by airplane. Some beach shade tents are too big for air travel and can only be transported by car.
2. How Many People are in Your Party

Is it just two of you or will your beach vacation include a large group?
3. Do You Like Sitting Together :)

We like a large beach canopy tent so that we can all gather together in one shaded spot rather than being spread apart with separate beach umbrellas.
4. How Far to the Beach?

Is your beach right outside your beach vacation home? Do you have to go up or down a large flight of stairs to reach the beach? Does the canopy come with wheels?
Our Coleman beach shade tent measures 10' x 10' and is easy and quick to set up. This year's family beach vacation included 6 adults and 5 kids and the canopy provided ample space for toddlers to play in the sand and for adults to converse and catch up with each other. Instead of being spread out with separate large beach umbrellas we get to make the most of our family time together and interact more with each other by sharing the "shade."
Top Tips for Choosing and Securing Your Beach Canopy Tent