Beach Cabana Tent

The beach cabana tent provides shade and protection from the wind for the entire family while still enjoying the ocean view. It is similar to a beach tent but there isn't a zip up door to close it for complete privacy.
They provide more shelter than a beach umbrella - especially from wind and a pop-up shower.  The self erecting design makes them a snap to set up and take down. The special SPF coating keeps every one safe from the sun's harmful rays, and several degrees cooler than when sitting in the direct sunlight.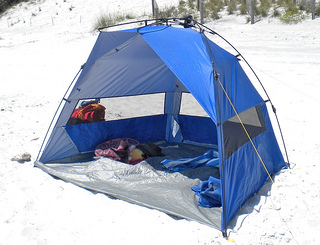 Beach Sun Shade

This 3 sided beach shade is made of a heavy duty material that provides full protection from the sun. The mesh windows let a breeze come through but prevent no-see-um bugs from coming in. It comes with 3 poles and a storage/carrying bag.
Easy to put up and small enough to pack in a suit case if you are flying to your beach vacation. Large enough for two beach chairs and a cooler. Sand pockets or stakes secure the tent
Calypso Cabana Beach Shelter
Instant Pop Up Shelter

If you are like me, you want instant - with no fumbling with poles as they are built into the tent. Let's get the cabana up and start enjoying the beach. Sandbags and stakes make give it stability in the wind. If you're looking for an inexpensive beach tent (around $39) with lots of 5 star reviews go to Amazon here:
Lightspeed Quick Draw Sun Shelter (Blue/Silver)
Bottomless Beach Cabana Tent

Some beach canopies have a bottom while others are "bottomless" like this one. It allows for children to play in the sand without getting sunburned. Others find that tent bottoms are too hot and enjoy sitting on a beach chair and having their feet in the sand.
A bottomless tent also makes it easier to pack up and leave the sand behind.
This one is a good value and can be packed in a large suitcase.
They also make great outdoor playrooms for the kids, depending on the style you choose of course. And the best part is that they won't ruin your grass because most styles don't have a plastic bottom. Having a tent in your yard will destroy your lawn in as little as a few days. A bottomless beach cabana can sit in your yard all summer without causing a giant yellow spot of dead grass.
Shade Shack Easy Automatic Instant Pop Up Beach Tent
A beach cabana tent is like having your own private piece of the beach. It is the perfect place to keep your cooler, towels, blankets and chairs and to enjoy a respite from the sun and wind. 
Many designs feature sides that can be rolled up or down to block the wind from any direction, and to give you a bit of privacy for a nap or just to keep curious eyes from watching your every move.


Copyright 2008 - 2019 www.BeachFunforEveryone.com
All rights reserved. This DMCA site is protected under U.S. and International copyright laws. Do Not Copy any Content or Images. No use is permitted without written permission.

All Rights Reserved