Ocean, Lake and River Floats

Ocean, lake and river floats provide a fun way to relax by yourself or with the company of good friends and family.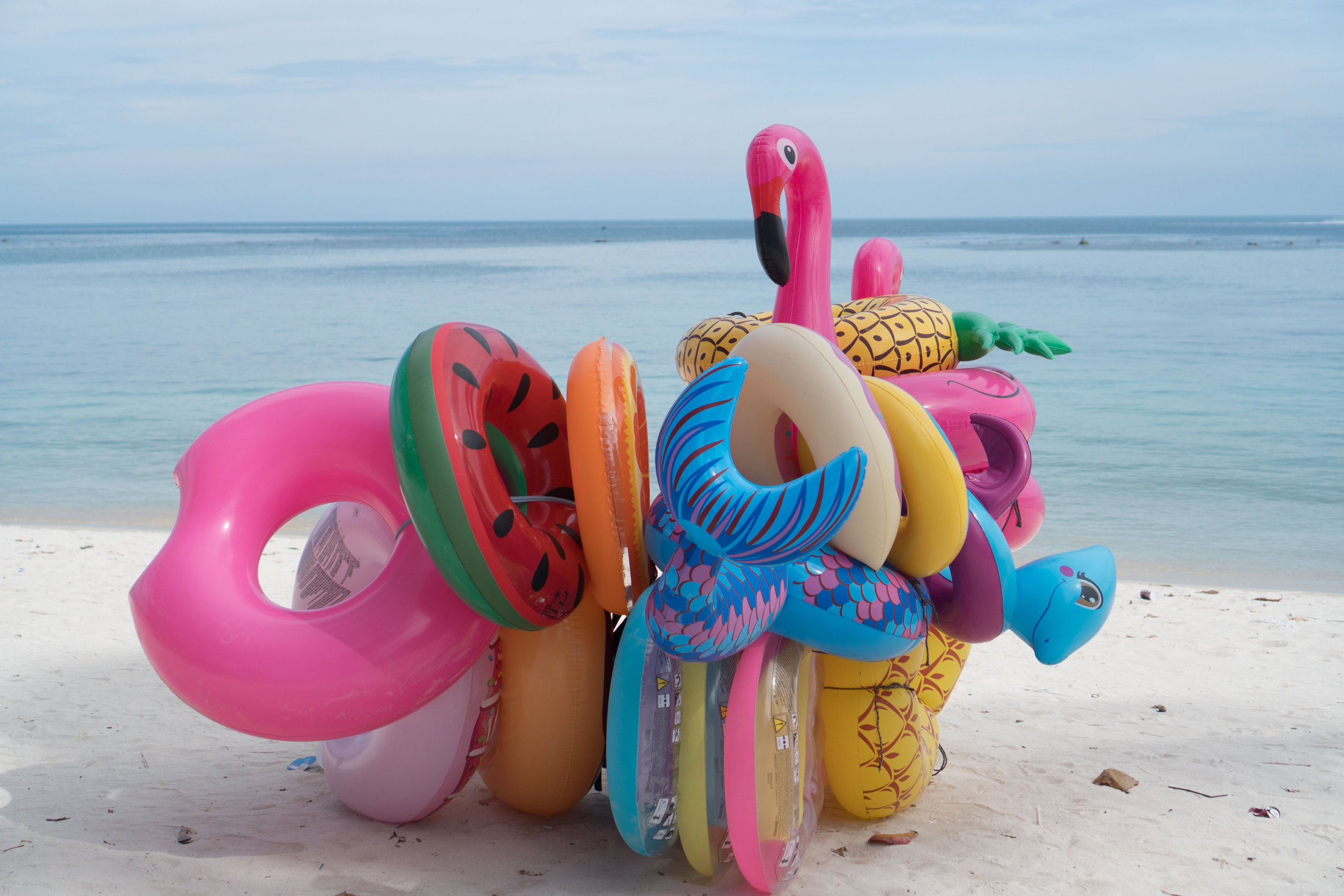 River floats like this one provide a great way to keep cool and enjoy conversation with your friends or family.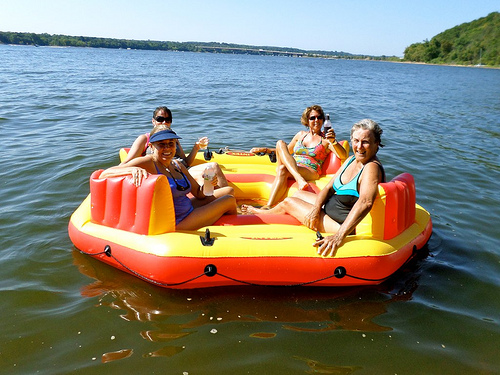 Here we are my favorite river, the St. Croix River enjoying a day at the beach I grew up on. Catching up with my sister, daughter, and good friend Sandra from South Africa on a hot summer day on the Paradise Pacific. 
On a 90 degree sunny day it's way more fun being in the water than sitting in beach chairs.

The inflatable backrests and drink holders are great features and a mesh center means the refreshing water will keep your feet cool. It seats 4 adults comfortably (but you can seat more) and the grab handles and ladder makes it easy, well maybe not easy, but with a little help, get into the Pacific Paradise lounge float.   Made out of high quality, durable vinyl it should last for several years - as it has for my sister.
The float can be tied to the back of your boat or a dock as another option. You will need an electric (not a hand pump) to blow this big guy up.

If you are looking for a large ocean or lake float ( it measures 100" by 100") that can accommodate several people this is the one.

Four or More Person Water Float
Fun Floats for Kids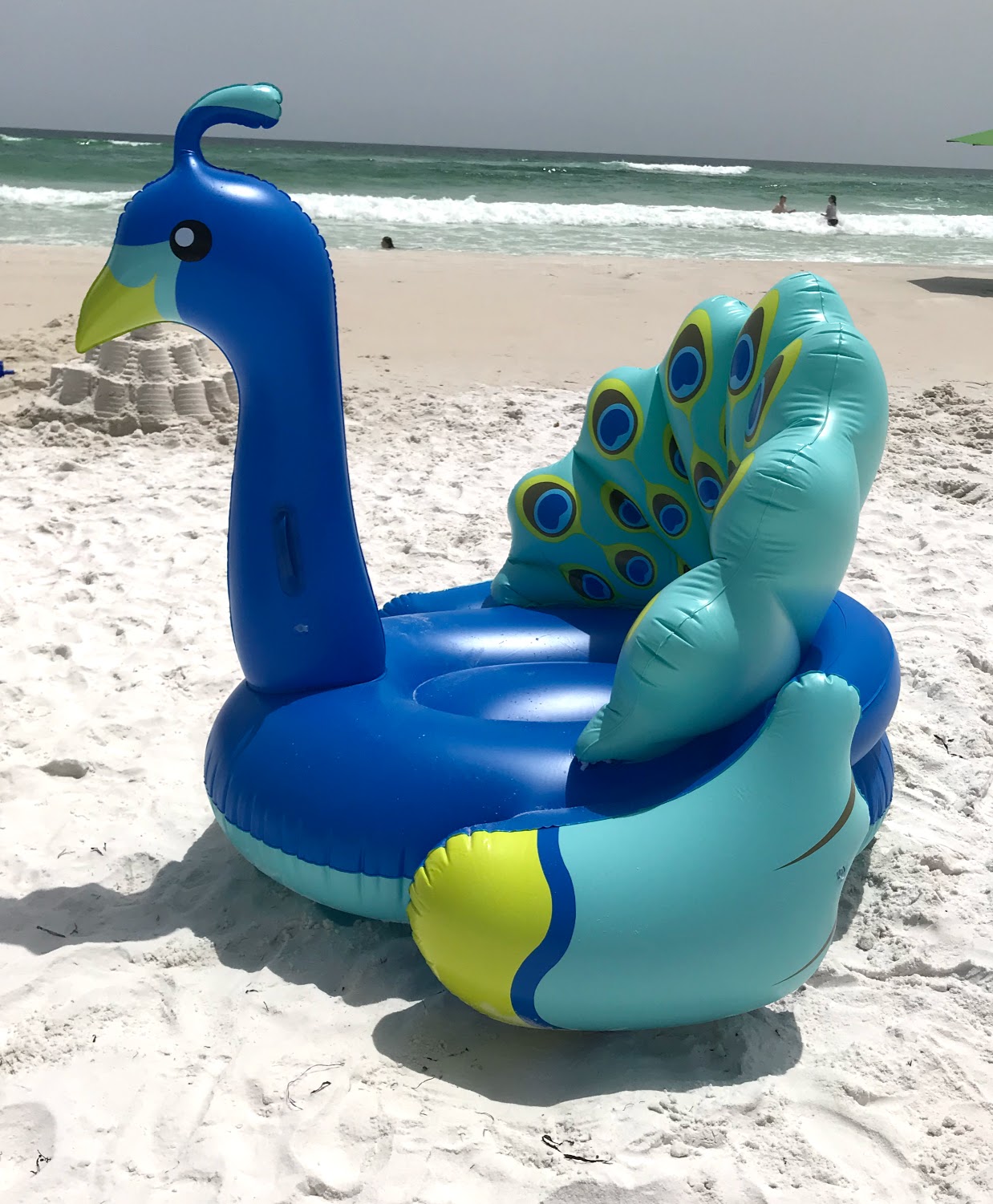 We told our granddaughter she could pick a large pool float to bring to the ocean.  She chose this beautiful blue peacock who has followed us to the beach and to the swimming pool.  Everywhere she goes she gets lots of compliments and attention.  Best of all she's lots of fun in the waves and in the pool.
Swimline Giant Peacock Pool Float
Doesn't Ms. Flamingo look right at home in the water?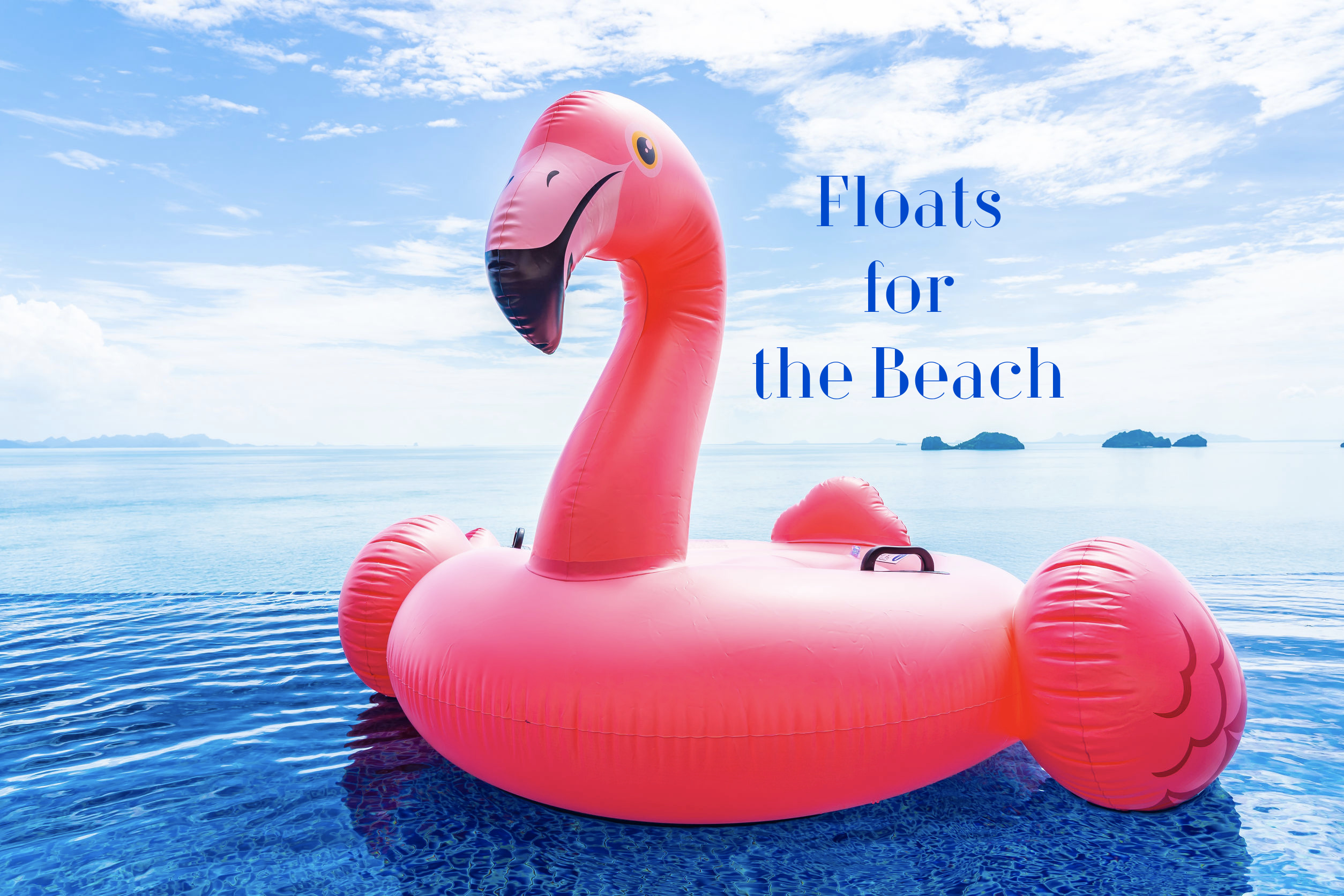 These large ride on floats come in different sizes that can accommodate just one person or multiple people. Add some extra fun keeping cool in the water or riding the waves close to shore with a flamingo float ....

Giant Flamingo Floats
Be sure to pack a
portable hand air pump.
According to the Royal National Lifeboat Institution.
"We urge you not to use inflatables, blow-up toys and airbeds which are designed for pools, not the sea where they can easily be swept out. If you do use them at the beach, then:
ensure children are closely supervised
keep near the shore
only use between the red and yellow beach flags
follow the lifeguard's advice
do not take inflatables out in big waves
never use them when the orange windsock is flying, as this indicates offshore winds which will blow inflatables further out to sea
if you do get into difficulty, then stay with your inflatable as it will keep you above the water."
https://rnli.org/safety/beach-safety

Lake Floating Islands
Tropical Breeze Float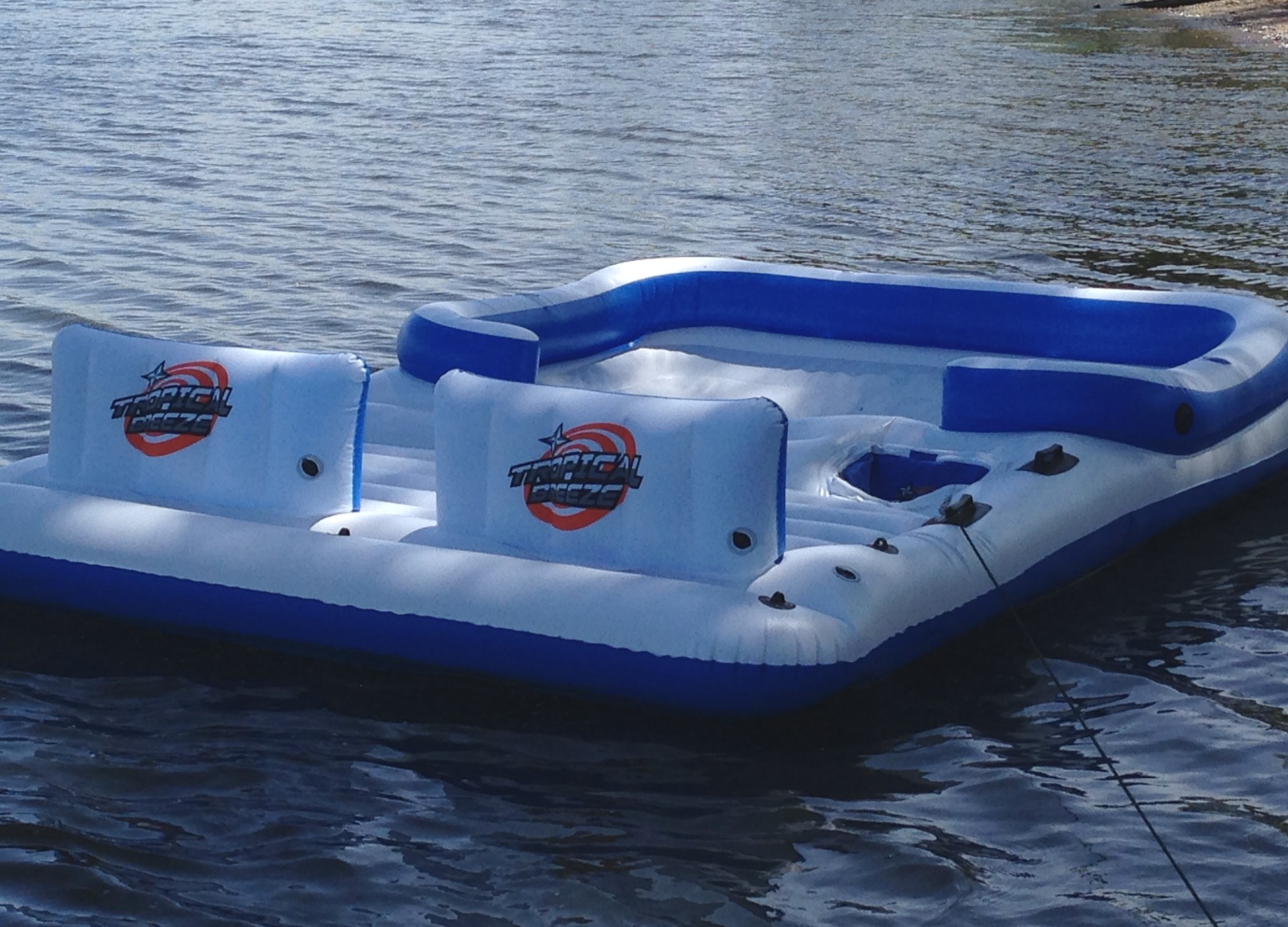 Catch up with up to 6 friends on this lake floating island by Tropical Breeze. Back rests provide comfort and a removable sun shade provides protection from the sun. 
A cooler bag and beverage holders mean you can just keep floating all day without having to head to the shore to replenish. 
CoolerZ Tropical Breeze Inflatable Floating Island
Ocean Float with Shade

OK - what's not to like about this ocean float?? Want some shade, attach the cabana cover. Need to keep drinks or food cold, store them in the cooler. Want to stay put and not drift out to sea, set the anchor.
The cover is vented so a nice breeze can keep you from getting too hot. This one comfortably fits 4 adults and maybe a couple of kids.
SPORTSSTUFF 54-1920A Cabana Islander
Swan Pool Float
These swans are waiting patiently for someone to take them out to the water. 
There is swan pool float for everyone to have some relaxing fun in the water. 
Swimline 90621 Giant Swan Pool Float
Float with Canopy
I love a float that has a canopy to protect me from the hot sun. However, the canopy is detachable so if you want full sun it is an option.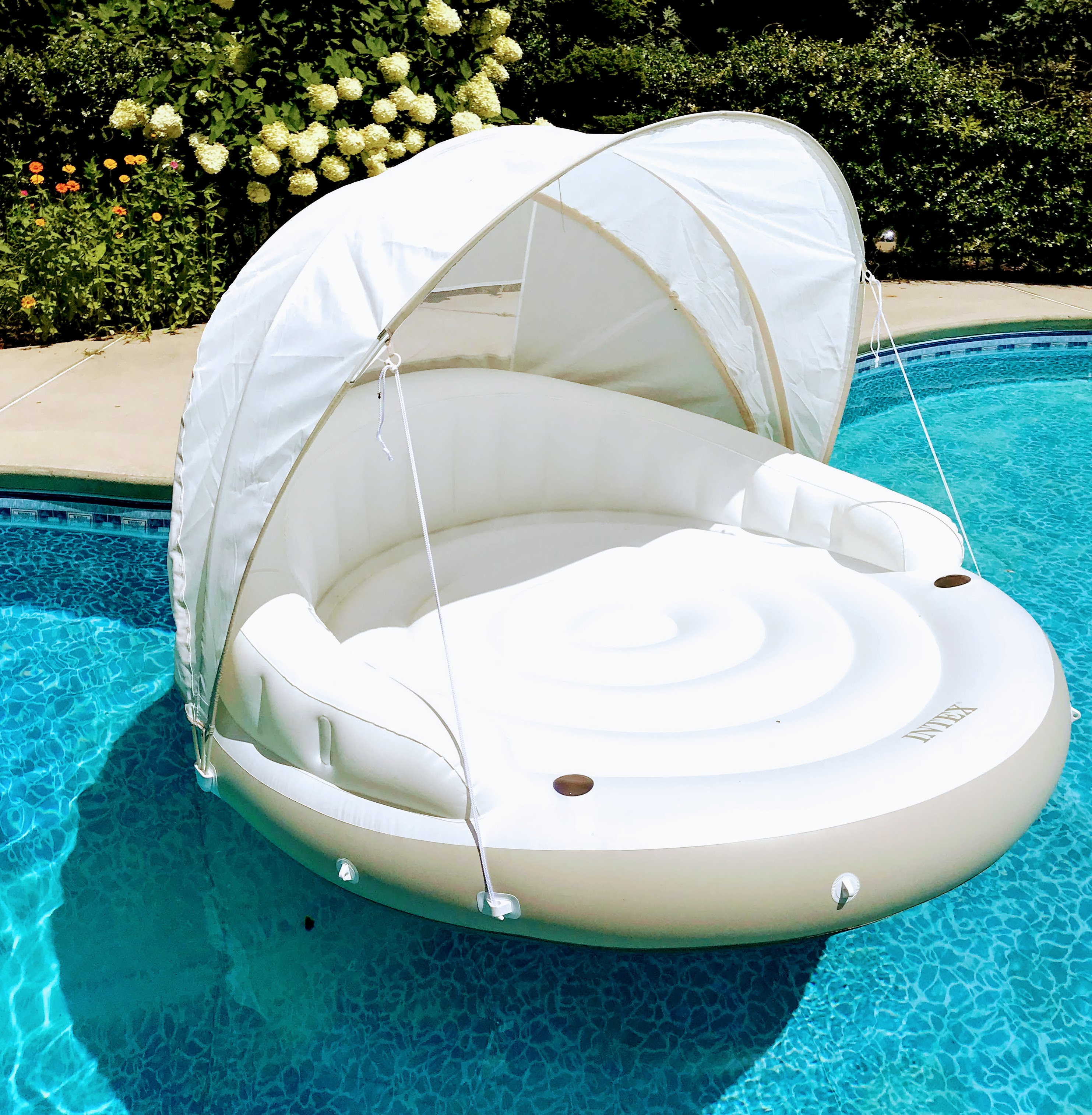 The float is big enough for two adults and perhaps two small children. If you like to float above the water and not get wet this is the float for you.  There are two air chambers and two built in cup holders that hold cans. A back rest means you can comfortably rest upright. 
Whether socializing with friends or relaxing by yourself, the Intex Canopy Island is perfect for relaxing in the water

Detachable fabric sun shade provides just the right amount of shade from the heat on hot summer days allowing you to unwind in comfort

Two air chambers are added for extra safety and two built-in cup holders are included for you to keep a beverage nearby

Rest with the comfortable back rest, relax and savor the experience! Approximate deflated size: 781/2" x 59"



Use a little 10lb mushroom anchor to keep it in place



Intex Canopy Island Inflatable Lounge, 78" X 59"
Swimways Spring Float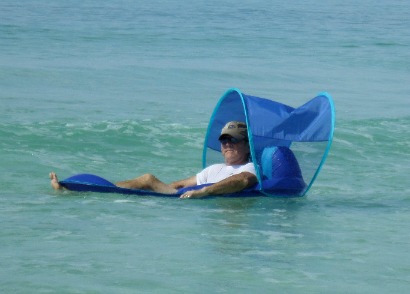 We will never go to the beach again without this float.  The mesh bottom keeps one cool and the canopy keeps the sun out. Just relax and roll with the waves with your feet up and your head resting on the headrest.  Next year we are bringing two to help keep the peace.
It is easy to inflate and deflate - which means there is plenty of room to pack it for your next beach vacation.

Spring Float Recliner with Canopy 2 Pack
Floating Chair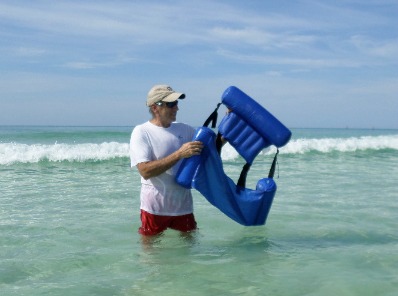 If you enjoy sitting up in a chair like position so you can see what's goin' on around you or to visit with another person, you will like this floating chair.  The straps are adjustable so it fits any size person.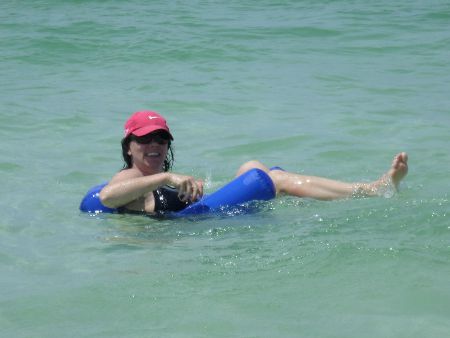 It's very comfortable, easy to inflate and deflate which means it's easy to take with you on any beach vacation.  We've had ours for two years and use it at the beach and in our pool. Very durable, comfortable and easy storage.  It is by far our favorite floating chair.
Poolmaster Floating Chair
River Float with a Challenge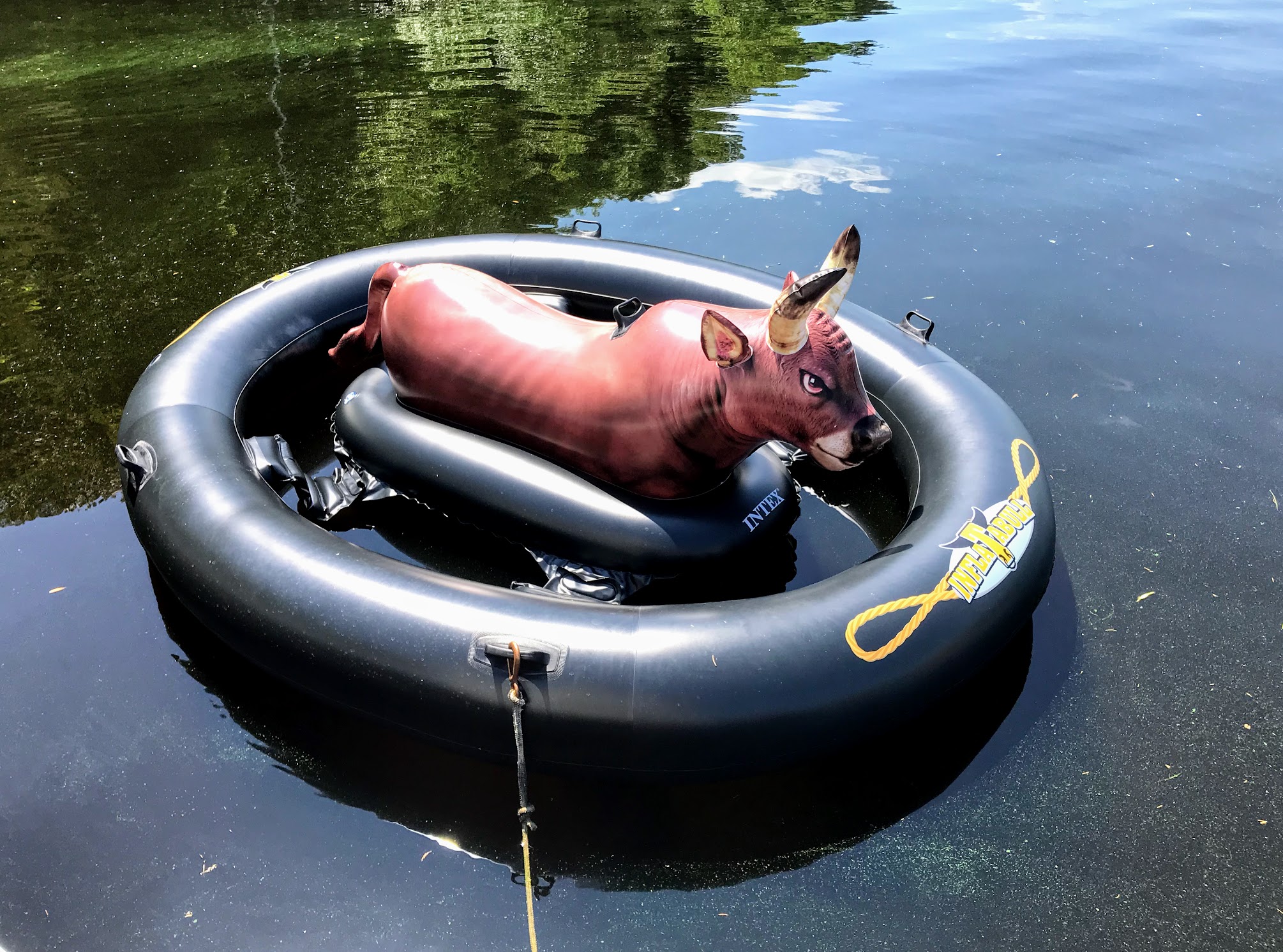 Ride the bull and enjoy a soft landing in the water.  This guy isn't mean but he is big, measuring 94" x 77" x 32". 
Intex Inflat-A-Bull, Inflatable Ride-On Pool Toy, 94" x 77" x 32"
Water Hammock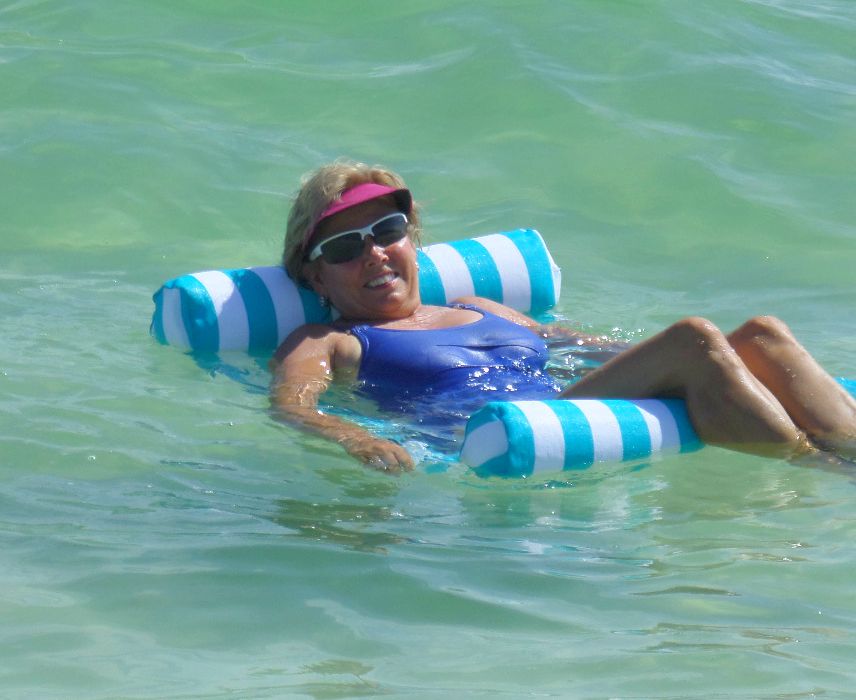 A water hammock relaxes you just slightly below the water so you can stay nice and cool on a hot day. A comfortable headrest and support just under the knees makes for a fun floating hammock.
Two inflatable tubes - one for the headrest and one for the leg rest can be deflated and the hammock can be rolled up to put in a suitcase for traveling to a beach vacation or just for easy carrying to the beach.
AIWAN LEZHI 2-Pack(Pink,Blue), Comfortable Water Hammock
Beach Floats for Kids

A simple large inner tube is a great float for the river, lake or ocean.
The 4 year old loved riding the waves safely sitting inside this spring float - it's actually marketed for babies and toddlers but worked great keeping her head above the waves with her dad standing right beside her. Found it at Amazon here:

SwimWays Baby Spring Float
Turtle Pool and Ocean Float
Kids love riding the waves on an inflatable float like this really large turtle.
These floats have come a long way - and this one especially is very stable which means you don't tip over into the ocean, lake or river by simply leaning a little too much.
It's not just large - it's huge measuring 59" x 50". Two handles - one on each side and a wide stance adds to the stability and a fun ride in the water.
Made of tough, durable plastic this turtle will add another element of entertainment at the beach.

Intex Lil' Sea Turtle Ride-On, 59" X 50", for Ages 3+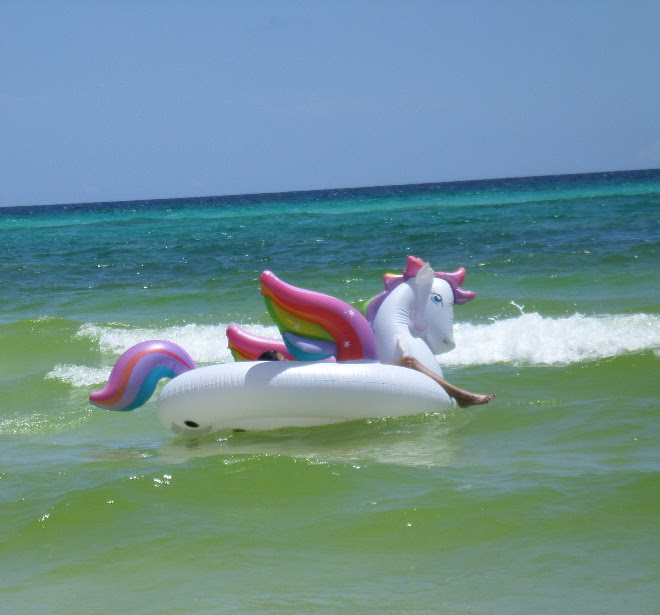 Ride the waves and see if your unicorn will take flight with this heavy duty super large pool, lake or river float.  There is plenty of room for more than one person to double or triple the fun. 
Unicorn Pool and Ocean Floats
I'm Just Sayin'

I'm just sayin', if you don't have an electric pump, you will spend more time inflating your float than you will enjoying the float. Get out on the river, lake or ocean fast with this speedy 120 volt air pump.  Deflates your inflatables as well.  A safety nozzle prevents over-inflating.  Just be prepared for loud, but it's over quickly with this pump :)

Airhead AHP-120 Kwik Tek Air Pump Canister (120-Volt)
Go from River Floats to Beach Fun for Everyone Home

Copyright 2008 - 2023 www.BeachFunforEveryone.com
All rights reserved. This DMCA site is protected under U.S. and International copyright laws. Do Not Copy any Content or Images. No use is permitted without written permission.

All Rights Reserved