Toys, Floats and Games for Kids at the Beach
There are many floats, toys and sun protective clothing for kids at the beach.  Age appropriate is the key from U.S. Coastguard approved vests to boogie boards for some fun wave time.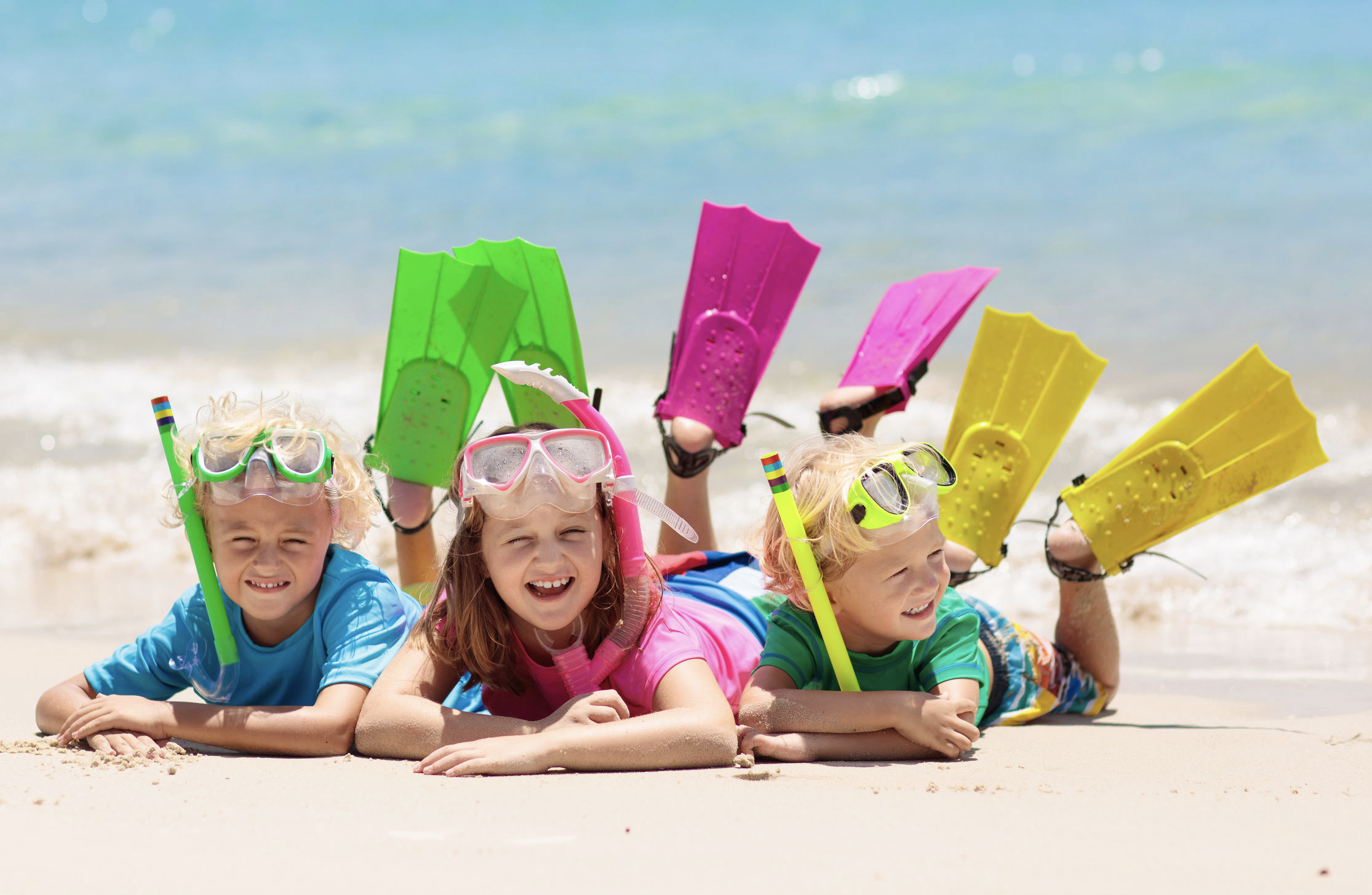 There are lots of beach toys, floats and games that will entertain and provide a safe day on the beach or in the water.
Best Beach Toys for Kids At the Beach
Make the most of the waves when you are at the beach with either a boogie board, a skim board or fun floats.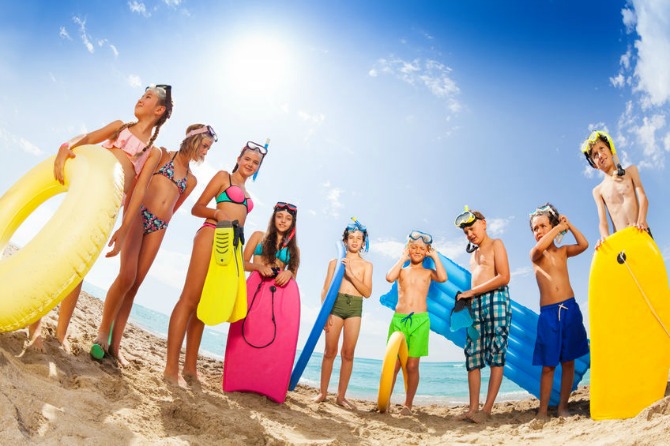 Whether you are in the water or playing in the sand, invest in the best beach toys for your child's interests and age.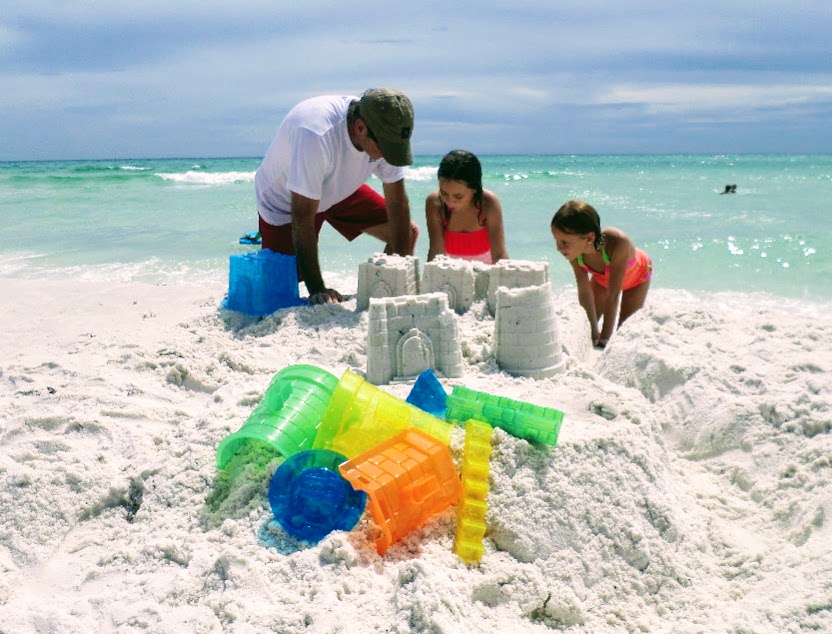 Check out what are the best beach toys for kids of all different ages here:
Beach Games for Kids at the Beach
Get out some paddles, frisbees, corn hole or ladder toss and make some memories tossing, catching, jumping and chasing. 
Use light up frisbees for nighttime games and soft foam frisbees for beginners.  
Slammo will have your group fighting for their turn and a fabric corn hole is  light enough to carry from your car or like we did, on our bikes. 
These tips and ideas for beach games for kids are great for those red flag days and provide a fun family time interaction and a competition.

Life Jackets for Kids at the Beach
Our fearless granddaughter loves the ocean but she especially loves swimming in the waves.  While of course we were always right by her a Coast Guard approved life jacket provides some extra safety. 
It fits over the chest with arm floats. Unlike the old life jackets that ride up the chest these allow kids to move and swim without feeling like they are wearing a life jacket.  Soft polyester fabric makes them comfortable to wear with less chafing. 
These are good for children 30-50 lbs. (13.6 kg.-22.7 kg.)  The Coast Guard-approved life jacket comes in several different styles and colors.

Because it clasps in the back kids can't unclasp it, but if it is not on tight, a child can wiggle out - so anytime a child is in the water, adult supervision is required.  This is a good option for kids for a day at the beach, river, lake or pool.
How to Choose the Best Life Jackets for Kids

Fun Floats for Kids
Every year we let one of our grands choose a fun float to bring to our family beach vacation.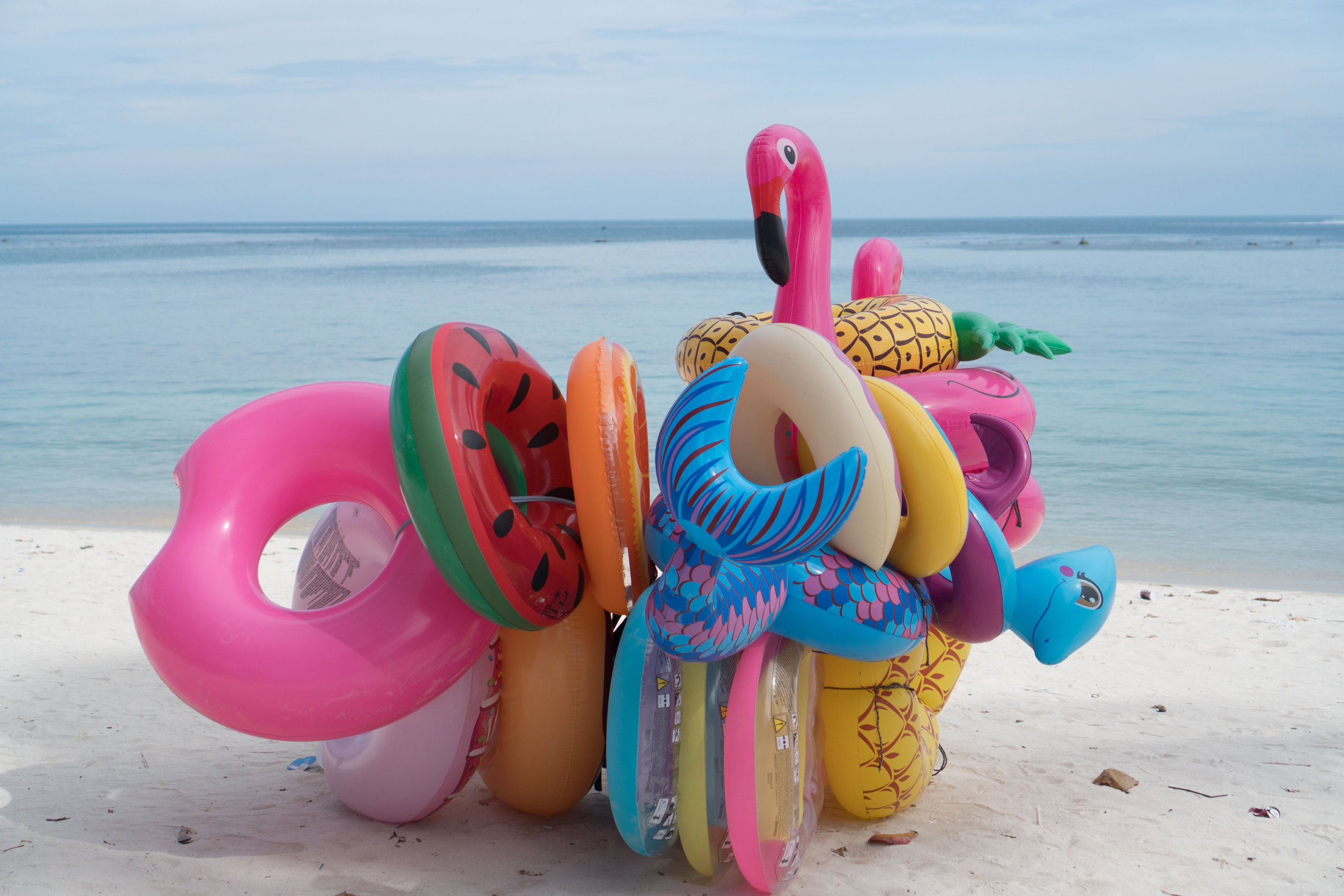 From peacocks to alligators, there is a float designed to appeal to your child's personality. 
Choosing the Best Sunscreen for Kids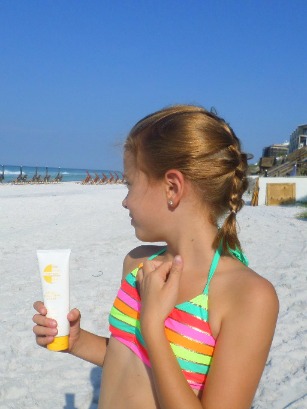 The best sunscreen for kids is one that offers protection from the sun but is free of toxins that are absorbed into the body through the skin.  
The majority of sunscreens contain ingredients that have never been tested and contain carcinogens, hormone disrupters and allergens. 
Even as a registered nurse I didn't realize that the majority of sunscreens contain harmful ingredients.  Combine that with repeated use of these lotions that are spread all over the body, it's important to find out how to make safe choices to protect your children. 
Learn what ingredients to avoid, what are the dangers of spray sunscreens and how to determine if a sunscreen has safe ingredients:
How to Choose the Best Sunscreen for Kids
Girls Two Piece Swimsuits
One of our favorite brand of two piece swimsuits for girls is Kanu Surf.  High quality fabric and fun colors and designs make them an easy choice. Depending on what design you choose the company offers sizes ranging from 2T to 14 girls.  
Kanu Surf Big Girls Summer Dream Tankini Swimsuit
Goggles for Kids at the Beach
Our grandkids love to "explore" the bottom of the ocean, looking for shells, fish and crabs.  Whether it's salt water, chlorine water, or lake water, protecting their eyes is easy with a pair of swim goggles.

We especially like lenses that are bigger which provides better visibility and a wider field of vision. 
You want ones that don't fog and don't leak.

We like how the straps can be easily tightened and loosened and the ergonomic design means they feel comfortable and kids will enjoy keeping them on.

Aqua Sphere Seal Swim Goggles
Best Snorkel Gear for Kids
Whether it's clams, crabs, colorful fish or shells, it's fun to watch kids  marvel at God's creation.
The Small/Medium is for shoe size 1-3, large/extra large is for shoe size 3-6. 
The flipper straps adjust easily as does the mask.  You never know what one might find with a good snorkel set.  Our granddaughter found 15 pairs of sunglasses on one of her underwater searches. 

U.S. Divers Junior Regal Mask, Trigger Fins and Laguna Snorkel Combo Set
Kids Snorkel Gear Sets
Kids Beach Bag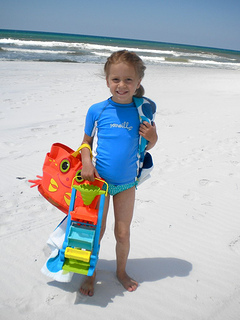 Kids may actually enjoy carrying their sand toys if they have their own beach bag, like this cute Melissa and Doug crab beach bag.
Just the right size for a couple of sand toys so it's not too heavy and not very big. The mesh bottom means that sand can easily escape but just run it under some water to get the rest of the sand off.  
There is a large inner pocket and outer pockets as well.  The bright colors are adorable and even after 3 summers of use, the colors have not faded.
Melissa and Doug offer two designs - they are the same size - the orange crab and a blue octopus.

Melissa & Doug Sunny Patch Crab Kids Beach Bag
Sand Toys for Kids at the Beach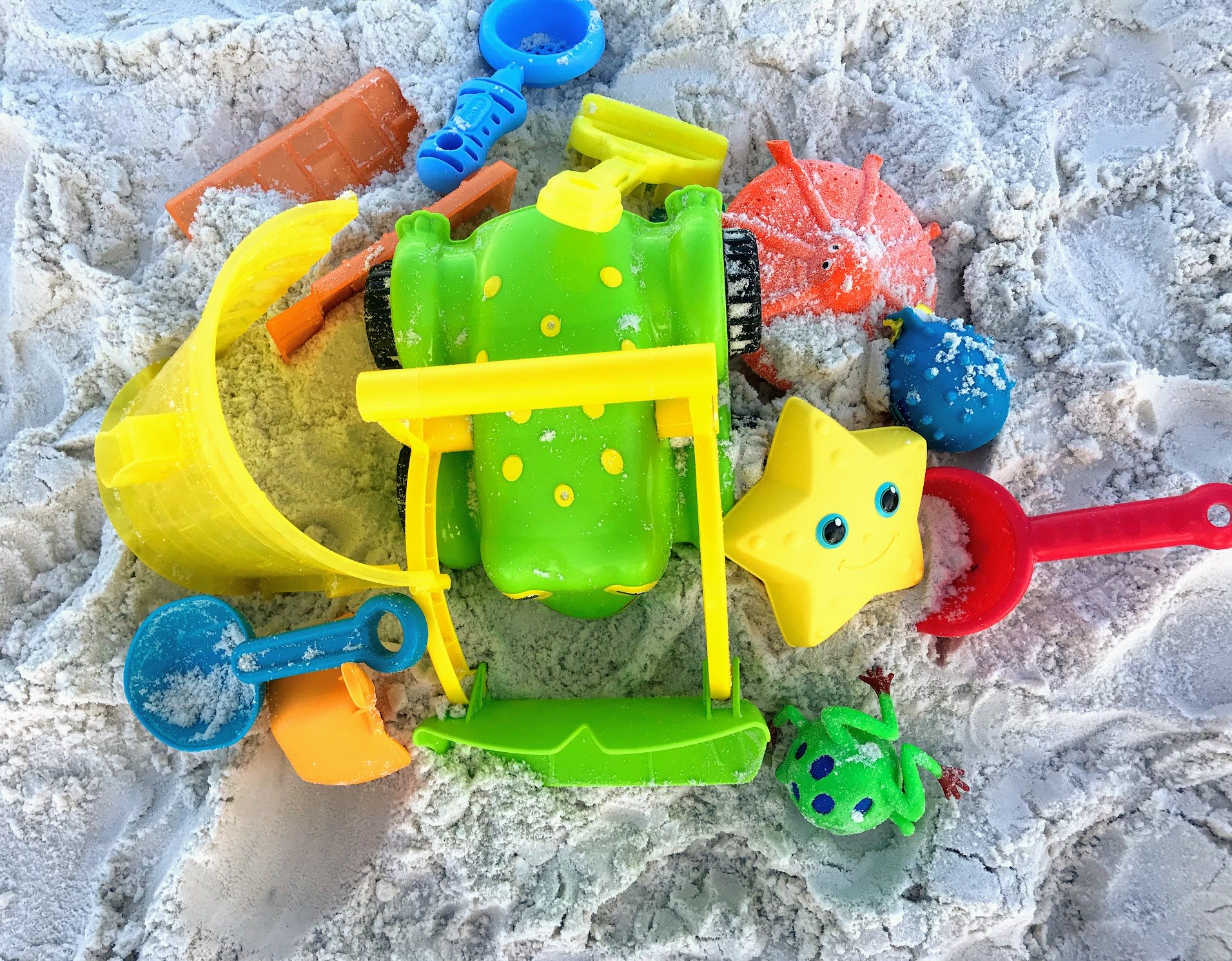 What's a beach vacation without making a sand castle or digging in the sand? 
Buckets, shovels and sand forms appeal to all ages and genders and come in a variety of options.
Make cupcakes, cookies or ice cream cones or haul sand with a dump truck and front loader.
Check out these ideas here:

Sand Toys for Kids at The Beach

Kids Beach Chairs
If you want a kids' beach chair that appeals to kids, then let them have a seat on Mr. Crab or Ms. Octopus.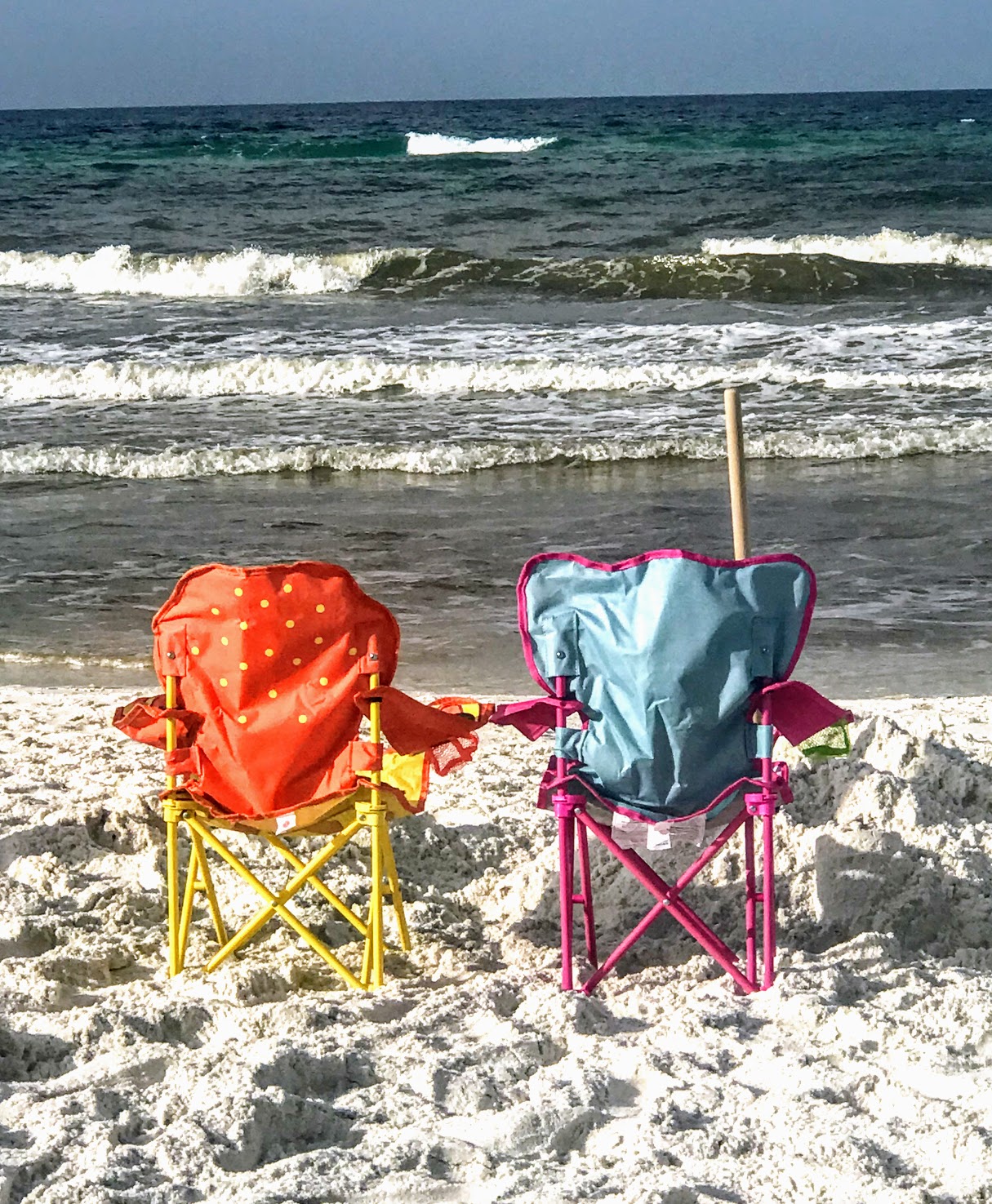 With their own chair and drink holder, they may actually take a break from playing in the sand and the water for a little respite.
Made of durable, fade-resistant fabric, the Melissa and Doug kids beach chairs hold up to 125 pounds. It folds down and up easily so that even a young child can set the chair up.
Kids 2 to 7 would find this portable chair fun to have at the beach.

Melissa & Doug Sunny Patch Octopus Folding Beach Chair for Kids
Sun Protection Clothing for Kids at the Beach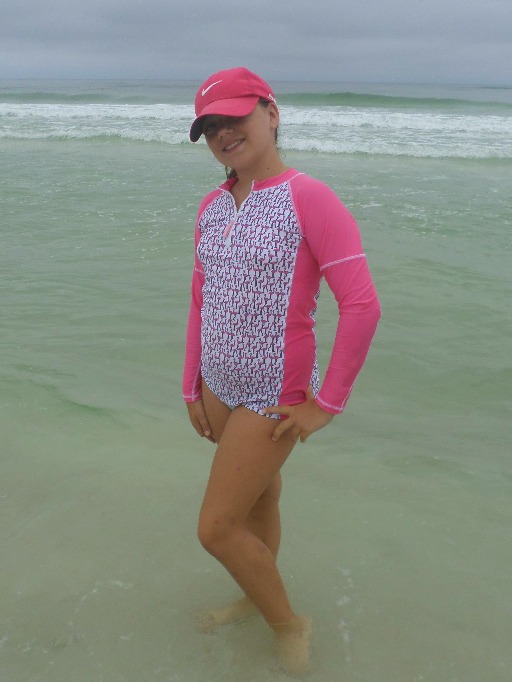 Our kids have grown accustom to wearing rash guards.  They have little interest in sitting underneath an umbrella nor re-applying sunscreen throughout the day.
Without sun protection clothing, sunscreen needs to be re-applied every 2 hours if kids are in and out of the water and toweling the lotion off.
A simple solution is to keep them protected with long sleeve rash guards that protect their back, front, and arms.  You can purchase just the tops or  two-piece UV protection swimsuits that include matching swim shorts. 
Or just match up a solid colored rashguard with your kids swim trunks or bottoms of a two piece swim suit.   The swimsuit fabric is lightweight, dries quickly and is comfortable to swim in.   Check out why UV protection swimsuits and beach wear should be an important strategy in preventing sunburns and protecting skin from future sun damage. 
Sun Protection Clothing for Kids
Best Sunglasses for Kids at the Beach



Polarized lenses reduce glare making these glasses comfortable to wear.  You want them to fit snug but not tight so that they eyes are protected from uv light entering in on the sides or the top.  These are somewhat of a wrap-around sunglasses.  
Provide cool sunglasses for your kids for all day sun exposure. Did you know that wearing sunglasses at sunrise and sunset is just as important as during the day?
We found them to fit our 9 and 11 year old granddaughters but not our 5 year old. 
RIVBOS RBK025 Rubber Flexible Kids Polarized Sunglasses Glasses Age 3-10 (Blue)
Kids Beach Towels
Our grandkids love getting their own special beach towel that's geared toward their interests - horses for one, Minnie Mouse for another and dolphins for the other one.
You always know which towel belongs to who so there is no fighting or shall I say confusion when it comes time to drying off.
Look for 100% cotton as this type of fabric is more absorbent even though it is a thinner towel. 
For smaller kids hooded towels come in a variety of characters, like mermaids or sharks.  They provide extra warmth for any shivering bodies getting out of the water.

100% Cotton Mermaid Kids Hooded Beach Towel
Keep your kids safe in the water, protected from the sun, while having a fun day of making memories at the beach. 
Go from Kids at the Beach to Beach Fun for Everyone Home

Copyright 2008 - 2023 www.BeachFunforEveryone.com
All rights reserved. This DMCA site is protected under U.S. and International copyright laws. Do Not Copy any Content or Images. No use is permitted without written permission.

All Rights Reserved