Beach Vacation Checklist

Looking for a beach vacation checklist to be sure you haven't forgotten anything important?  Did you ever get to the beach with everything set up and realize you forgot your sunscreen, your water bottle, or your sunglasses?  Here is a list that helps us to be sure we've packed all of our important beach gear.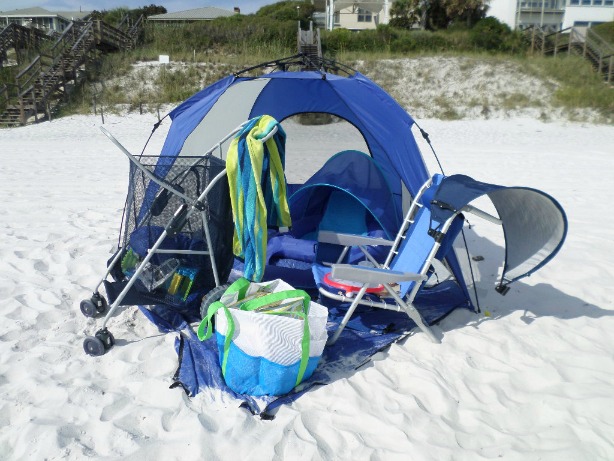 1.  Sunglasses and sunglass neck cords
Polarized sunglasses help to reduce glare and of course 100% UV eye protection is important.  Wear them on cloudy days and even when under the shade as UV rays reflect off the sand and water. 
2.  Hat or Visor

A beach hat or sun visor offers extra protection for your eyes and your skin from UV damage.  Start now to reduce your risk of skin cancer, cataracts and macular degeneration. 

5.  Cell phone, solar charger and waterproof case

6.  Towels

7.  Swimsuit
Long sleeve rash guards help protect your upper body from getting sunburned.  Sunscreen comes off easily after being in the water or rubbing your skin with a towel.

9.  Flip Flops, Sandals or Water Shoes

Choose a sunscreen that uses safer, cleaner ingredients so that you can feel good about what you are putting on your skin. 
11.  Drinks, especially water and insulated water bottles
Prevent dehydration by bringing plain filtered water.  There's nothing like really cold water to refresh on a hot sunny day.

12. Food - Snacks, fruit, sandwiches
Our favorite snacks are fruit like grapes, apples or berries.

A beach cooler comes in many sizes from a backpack cooler to a large hard top cooler with wheels.

Reclining, backpack, or extra-wide options that include headrests, cell phone zip pockets and even coolers for all day comfort. 
Provide some type of beach shade for yourself or your group. From simple clamp on chair umbrellas for a single person to large canopy tents for a large group, it's essential to have UV protection.

No need to be a work horse and carry everything, when you can easily haul your beach gear in a beach wagon or utility cart. 
Beach games are not just for kids.  Check out some fun games for all ages to play. 
18.  Large Beach Bag and Kids Beach Bags
Provide your kids with their own beach tote so they can help carry their own towel, beach toys, and water bottle.

Enjoy a calm day on the river, lake or ocean with a single float with a canopy or a large multi-person float for hanging out with friends or family.
Gather your beach friends together on a lightweight easy to carry beach blanket that is sand free.
This beach vacation checklist is a handy reminder to make sure you have packed all of the essentials for a wonderful family beach vacation.

Return to Beach Fun for Everyone Home

Copyright 2008 - 2023 www.BeachFunforEveryone.com
All rights reserved. This DMCA site is protected under U.S. and International copyright laws. Do Not Copy any Content or Images. No use is permitted without written permission.

All Rights Reserved