Beach Supplies


For a Fun, Full Day at the Beach



What are the top ten beach supplies we take with us to the beach? Some of them are a no-brainer like towels, but what about a cooler, sand toys, umbrellas, chairs and just as important, something to haul all your beach gear.

Beach Utility Cart to Carry All Your Beach Supplies
We carried beach stuff from the car making multiple trips and hauled all our gear in a little red wagon before we finally invested in a beach utility cart.
This one pictured easily folds up so you can pack it in a suitcase or throw it in your trunk.  Another cart we use is the Wonder Wheeler - it's taller and carries even more gear than the wagon shape.
Pack your chairs and umbrellas so there is no carrying these large cumbersome pieces  - just pull or push your cart.

Why did we wait so long? Who knows, but I can tell you we will never go to the beach with out one again. 
Beach Supplies for Shade
Bring your own shade to the beach. It is now easier and more affordable than ever.
Protect your skin and the skin of your family with this easy to put up umbrella that has two positions - sitting up straight like the one pictured or on it's side. 
When on it's side two flaps are anchored into the sand.
This position provides more protection from wind and blowing sand. 
Portable, lightweight and quick and easy to set up:
Best Sunscreen Lotion
The best sunscreen lotion offers protection from the sun without all the harmful chemicals.  However, even the best sunscreen may not provide you with protection if you aren't following some simple "rules" of application.  In order to get full protection from your sunscreen it's important to follow these tips:
1.  Apply Generously

Most people don't apply enough sunscreen. Apply a generous and thick layer of sunscreen over your skin.  Don't skimp. 
According to the Environmental Working Group (EWG), "Whichever sunscreen you choose, don't blow it and get burned now by applying too little. A thin layer of sunscreen just won't protect you. Why not? Because the protection promised on the label is based on a certain thickness on the skin, and if you're skimping (we know, those tubes add up), then you're not going to get the protection you want - or paid for."

2.  Choose an SPF of 30
What SPF is a good number and is higher, better?  Again the EWG provides the answer:
"Higher SPFs will give you more protection, but once you reach SPF 30, there isn't a huge difference between products with higher SPF values. A SPF 50 product, for example, only blocks about 1.3% more UVB radiation than a SPF 30 product. More important than seeking out ultra-high SPF products is simply that you apply your sunscreen generously -- most people put on only a quarter to two-thirds enough sunscreen to actually reach the product's SPF rating."

3.  Re-Apply
Sunscreens weaken as time goes by.  So even if you apply a thick layer of sunscreen or even if it is water resistant, it needs to be re-applied. 
4.  Use a Safe Sunscreen
EWG recommends that people use creams and not powders, pumps and sprays.  I use a sunscreen that has a safe rating of 1 from the EWG Skin Deep database. The company called Beauty Counter is committed to using only safe ingredients and has voluntarily banned 1500 toxic chemicals from their sunscreens and other beauty care products.  I was so happy to finally find a safe sunscreen that can be applied liberally without worrying about what chemicals are being absorbed into the skin.  
Find out what sunscreen protects and moisturizers at the same time - all with safe ingredients
Best Sunscreen Lotion for Body, Face and Lips
Backpack Beach Chair
Backpack beach chairs are light weight making them easy to carry and easy to set up.
Padded straps allow you to carry the chair just like a backpack freeing up your hands to carry beach bags, coolers or kids. 
From extra wide to high back beach, these portable chairs can be found to accommodate every size and style.

Whether you like reclining beach chairs or ones with large arm rests and a cooler, there is just the right beach chair for every need and price range.
Beach Supplies for Toting Your Stuff with Beach Bag Totes
How do you carry all your beach supplies and keep it organized? 
Get a large beach bag that expands the more you put in it with lots of pockets all around for easy access to sunscreen, water bottles, and snacks.

This mesh beach bag lets the air flow through for quick drying and for the sand to sift out. 
Just rinse it off with a hose and your are ready for your next trip to the beach.

Sand Beach Supplies for Kids
Simple buckets, shovels, and sand toys keep kids entertained for hours making sand castles, forts and anything else one's imagination can make up.

From making castles to cupcakes, sand toys are not just for little kids. 
Extra strong shovels for digging and trucks for hauling sand means kids have just as much fun playing in the sand as they do the water.

Find out what we bring to the beach and what keeps our kids happy and busy for hours:
Beach Supplies for Fun - Fun Beach Games

Pack a few fun beach games and toys - like a cornhole game for the beach or a boogie board for the waves and a wave skipper for a fun game of catch.  From footballs to frisbees, your family will love some friendly competition. 
Get everyone out of their beach chair to join in for some fun games.  
You will find ideas for all ages and skill levels here: 

Get more ideas for all ages here:
Beach Supplies for Relaxing on Beach Blankets



Large beach blankets or waterproof ones that keep you dry even when the sand is wet, provides space to keep all of your beach gear in one spot or to share with friends or family. 
The parachute beach blankets fold up neatly into a little bag and are easy to keep clean.  Just give it a good shake and all of the sand comes right off.
Find out main reason why this is our favorite one here:
Beach Supplies for Serving Sand Free Food with Folding Beach Tables
One of our favorite beach supplies is this folding beach table. Get your food, drinks and valuables up off of the sand or sandy blankets with a folding beach table.  
We used three different ones for a  beautiful Father's Day dinner of fresh shrimp.  
One of them servers double duty as a beach table and cart.
There are several other styles of folding tables - made of canvas with drink holders or a beach cart that converts to a table - how's that for being ingenious.
Check out your options here:
Beach Speakers
Toss a portable, water resistant or waterproof speaker into your tote bag and enjoy your favorite songs or listen to an audiobook while relaxing in your reclining beach chair. 
With blue tooth technology you can pair your phone, iPad, or Kindle to a wireless blue tooth speaker. Check out some options here:
Insulated Water Bottles to Prevent Dehydration at the Beach
To guarantee a day of family fun at the beach, pack lots of water. Did you know that Coke and other sodas actually dehydrate? Heat exhaustion is very possible, especially for small children who are preoccupied with playing in the sun all day.
Be intentional about not only having water available but also be sure they are drinking water throughout the day. For years I would freeze plastic water bottles and then take them to the beach, but I don't anymore. Plastic water bottles that are exposed to heat and sun potentially expose your loved ones to chemicals like BPA – Bisphenol A.
Invest in several insulated water bottles, fill them with ice and water. There are many fun colors and designs that appeal to kids to make it more appealing to keep them hydrated.  Find out which one I always take to the beach because it keeps drinks ICY cold even after hours in the sun:
Blue Blocker Sunglasses
Whether you like to wear sunglasses to be fashionable or to protect your eyes from glare and ultra-violet light, packing a good pair of polarized sunglasses is essential for any beach trip.
Did you know that eyes need to be protected from blue light as well as from ultra-violet light?  That's why we wear blue blocker sunglasses. 
I am wearing the Forenza sunglasses and like how they wrap around my eyes and are polarized to reduce glare. 
Eagle Eyes Traxion Polarized Sunglasses
Don't forget to put on a floating sunglasses strap like - Croakies or Chums if you are going in the water.   In one day when the waves were rather turbulent our granddaughter found 12 pairs of sunglasses rolling in the water - one of them was a pair of Maui Jims that were just like new. 
Cheap Beach Towels
You can get a set of these cheap beach towels in a variety of colors. The best part is you can send a message to the seller with your favorite choices. The color options are navy, turquoise, yellow, purple, pink, black and grey.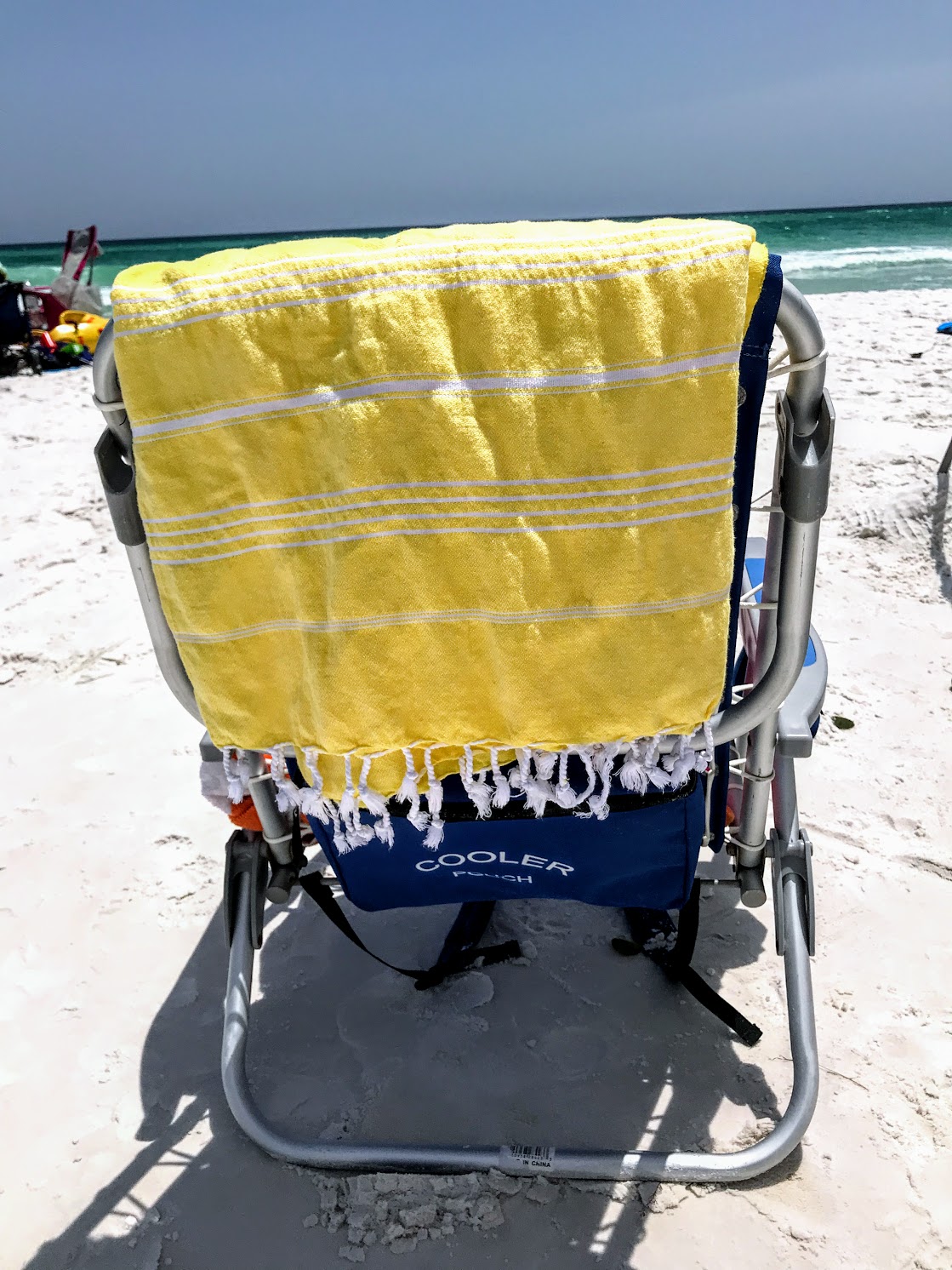 These 100% Turkish cotton towels are lightweight, dry quickly and take up less packing room than a normal towel. When you buy a set of 6 you'll find substantial savings. 

Paramus SALE Set of 6 XL Turkish Cotton Towels
Beach Supplies to Keep Your Cell Phone Safe with a Waterproof Cell Phone Case
Who goes to the beach without a cell phone now a'days? There is plenty of opportunity to get your cell phone wet and damaged. I'd love to tell you how my husband dropped his brand new cell phone into the deep end of the pool and yup, got it working again. But I wouldn't count on that.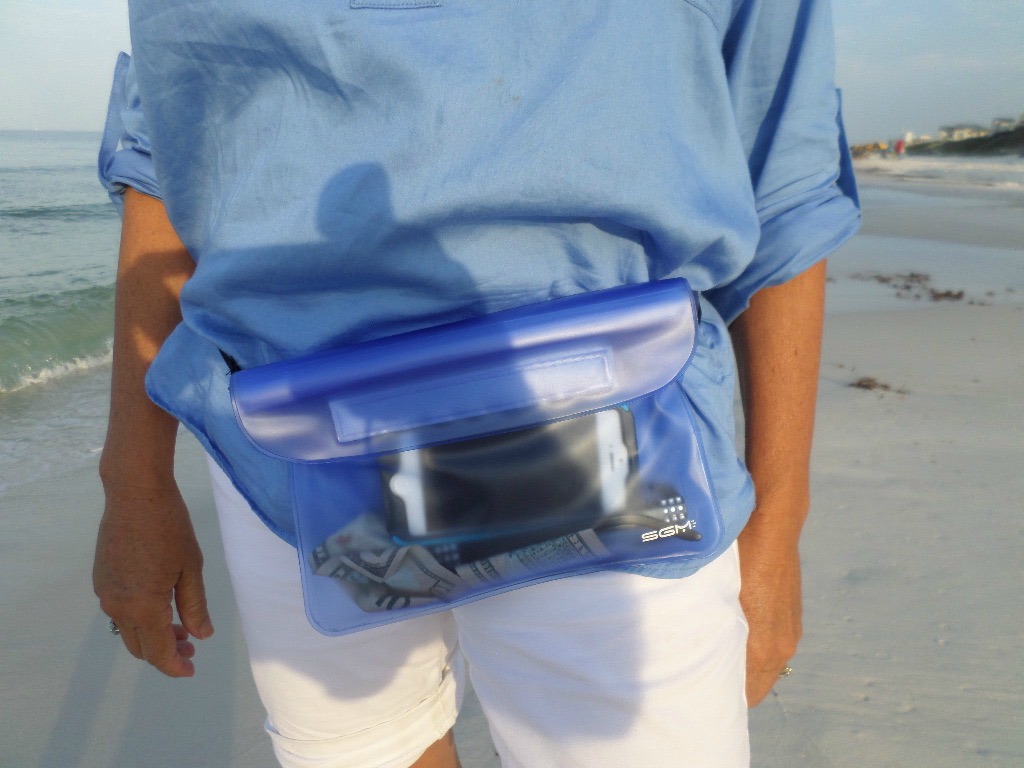 Or the time he rode his bike right into an inlet on the beach and found himself and his cell phone in waste high water. And ... come to think of it, the time he stepped into a fountain at a mall in Naples and found out the water was much deeper than he thought.  And "no" he was not drinking any of those times.  Maybe he should just keep his cell phone permanently in the waterproof case ...
The one that works great - if you keep your cell phone in there and not in your pocket - is one called DRY PAK DP.  My iphone 5 fits inside quite nicely - but so would a small digital camera, or an iPod. 

Waterproof iPhone Cases and More
Pack and bring these top ten beach supplies for a great beach family fun day you will never forget.
Go from Beach Supplies to Pool Fun for Everyone Home

Copyright 2008 - 2023 www.BeachFunforEveryone.com
All rights reserved. This DMCA site is protected under U.S. and International copyright laws. Do Not Copy any Content or Images. No use is permitted without written permission.

All Rights Reserved