Beach Speakers

Bring some music to the beach with these beach speakers.  Small, portable, lightweight and water proof or water resistant, you can easily toss them into your beach tote bag.
One of our favorites is the Mpow Armor speaker.  We take it with us all the time.  Easy blue tooth connection and the batteries last a really long time - the description says up to 10 hours - but ours have lasted way longer than that.  Even better is that the batteries are rechargeable so no need to have batteries on hand. 
Turn on your phone blue tooth connection first then power on the speaker.   The sound is really clear and loud.  If you are looking for a rugged waterproof speaker this is the one. 
Mpow Waterproof Bluetooth Speaker
Beach Speakers That Can Pair
What fun are these speakers?! Wrap the speaker around your tent pole or beach chair and stream music from your favorite device.  

Don't worry if a big wave splashes up on you, because these speakers are waterproof.  Plenty of volume and the sound quality is good for this little sized guy.  Only one comes in a package but if you buy two you can pair them.  Once you pair the speakers, it will happen automatically.  

Polk BOOM Swimmer Jr Bluetooth Waterproof Speaker
Waterproof Bluetooth Beach Speakers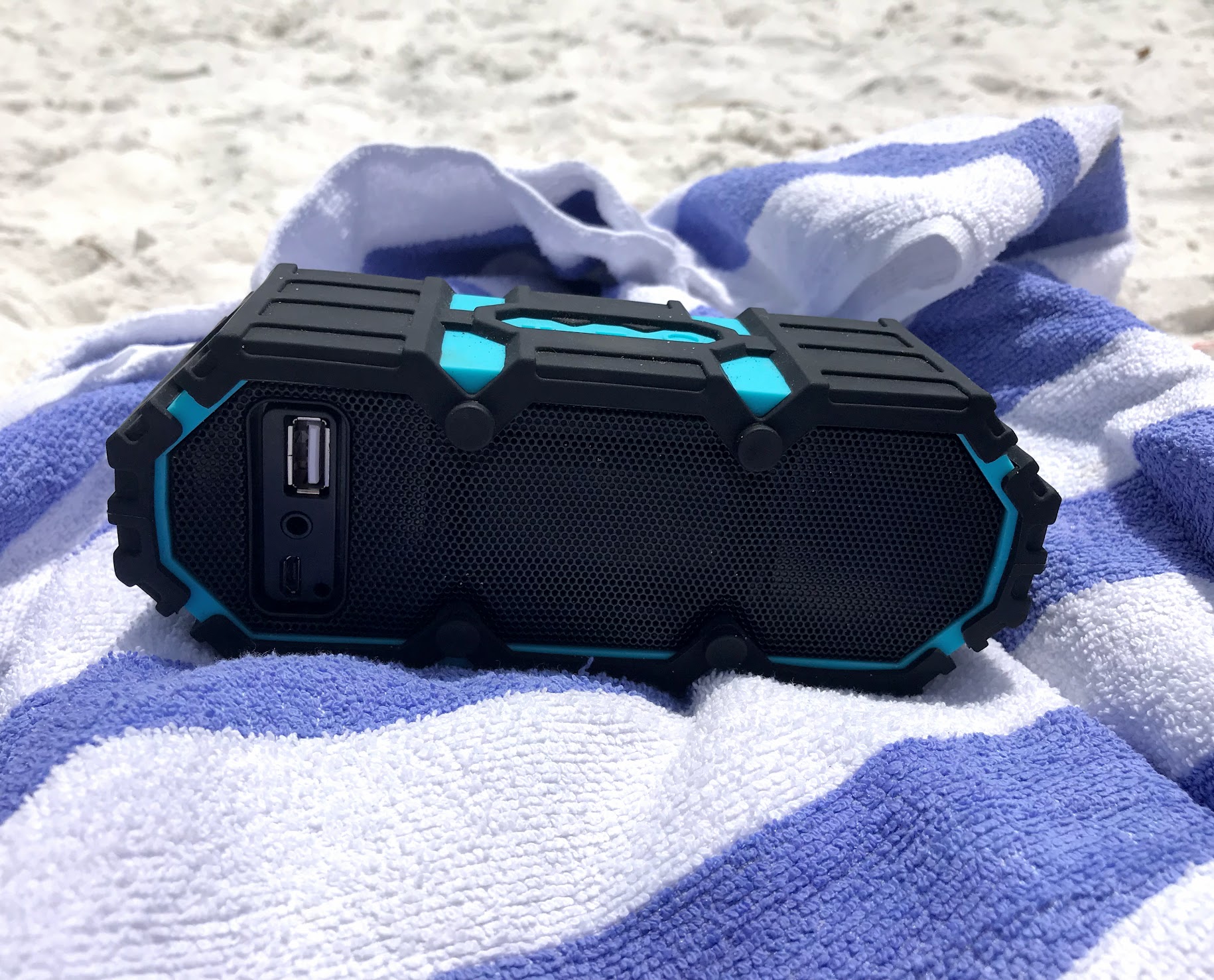 No worries as to its durability, because this waterproof speaker is a great companion for the beach.  The rechargeable batteries means with a quick recharge you are always for some fun or relaxing music. 
Powerful sound with a rich bass, you can enjoy your favorite tunes sitting on the sand or floating in the water.  If you are looking for sound quality, a long lasting battery without having to worry about sand or water, this is the one to pack. 
Altec Lansing IMW577-AB Lifejacket 2 Bluetooth Speaker, IP67 Waterproof, 30-Foot Range, 30 Hours Of Battery Life
So go ahead and enjoy your music in or close to the water.  You are getting more than a speaker - use it as a handsfree speakerphone to answer phone calls and thanks to SIRI integration ask for a nearby restaurant, for the time, for a weather report or to change your music. 
Whether it's great music or a good audiobook, unwind on the beach with the help of an outdoor blue tooth beach speaker. 
Go from Beach Speakers to Beach Supplies
Return to Beach Fun for Everyone
Copyright 2008 - 2023 www.BeachFunforEveryone.com
All rights reserved. This DMCA site is protected under U.S. and International copyright laws. Do Not Copy any Content or Images. No use is permitted without written permission.

All Rights Reserved