Beach Tote Bag
Whether it's canvas, mesh, or straw, a beach tote bag keeps all of your stuff together in one place.  With inside and outside pockets, comfortable carrying straps and lots of room for beach towels and gear, be sure to put this on your list of things to pack for the beach.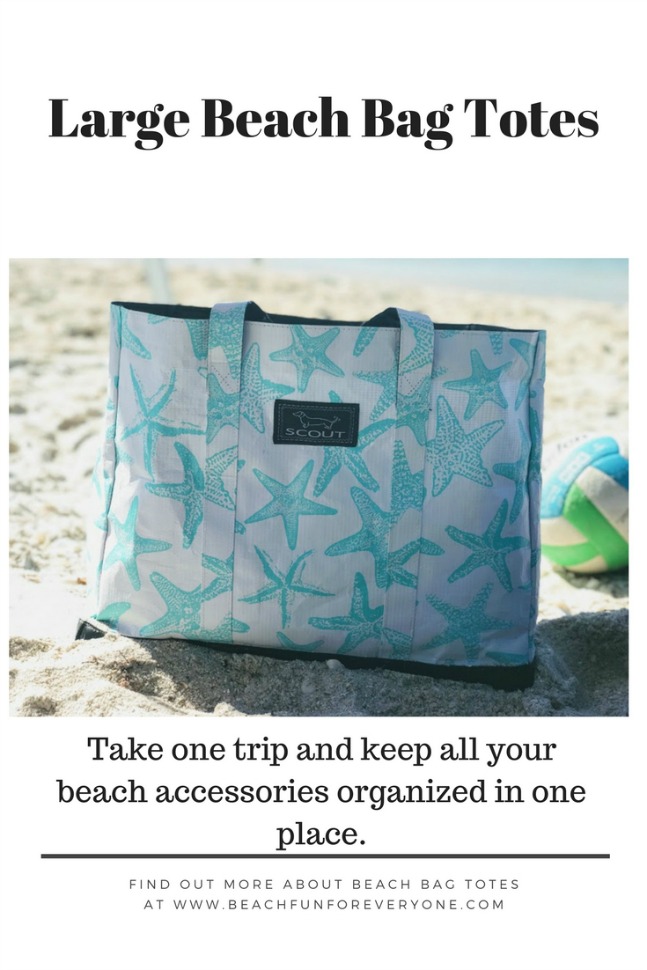 Large Beach Bags
If I have one, I have at least 7 large totes by Scout.  Another favorite of mine is the BJ Bag.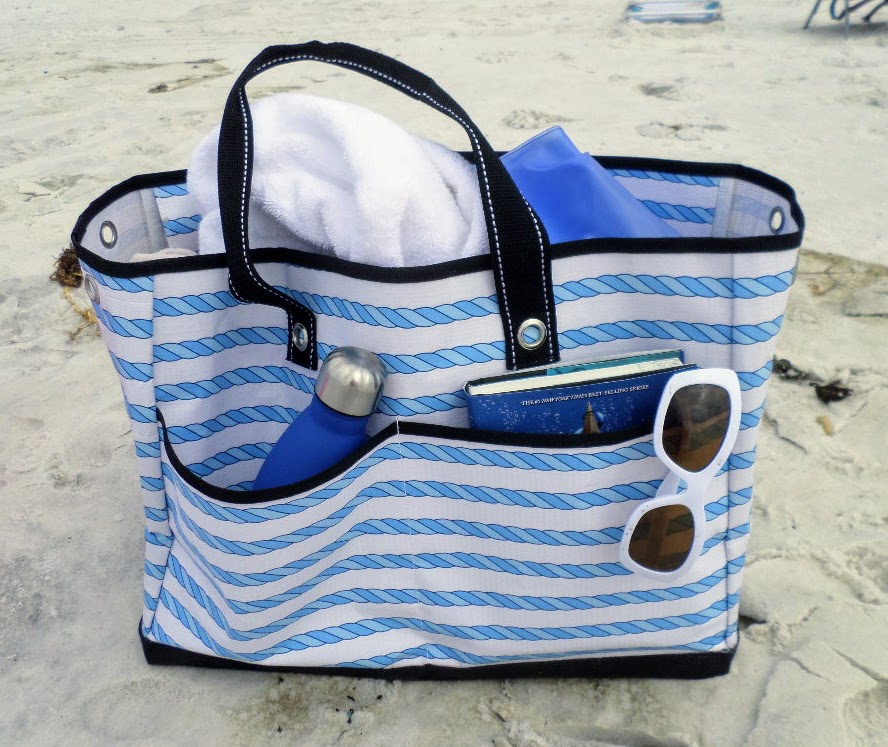 This tote comes with outside pockets for easy access and tons of space to stuff your beach accessories.  With a variety of designs to choose from, over 12, if you happen to like the one in the picture it's called High Tied.
SCOUT The BJ Bag Large Tote Bag
Don't you just love the bright colors and fun designs of Scout's designer beach totes?
It's all in the details including fine stitching along the top of the bag and high quality all weather woven fabric.  This beach bag is REALLY LARGE - it measures 24" wide by 19" high and 12" deep.  The fabric is water resistant, lightweight and durable.  Just wipe off any sand or dirt with water to clean it.   The bag folds flat when not being used so it doesn't take up much storage space. 
Bring this designer beach tote bag to the beach, pool and on your next vacation. 
SCOUT 4 Boys Bag Jumbo Tote Bag, Due South
SCOUT Beach Tote Bag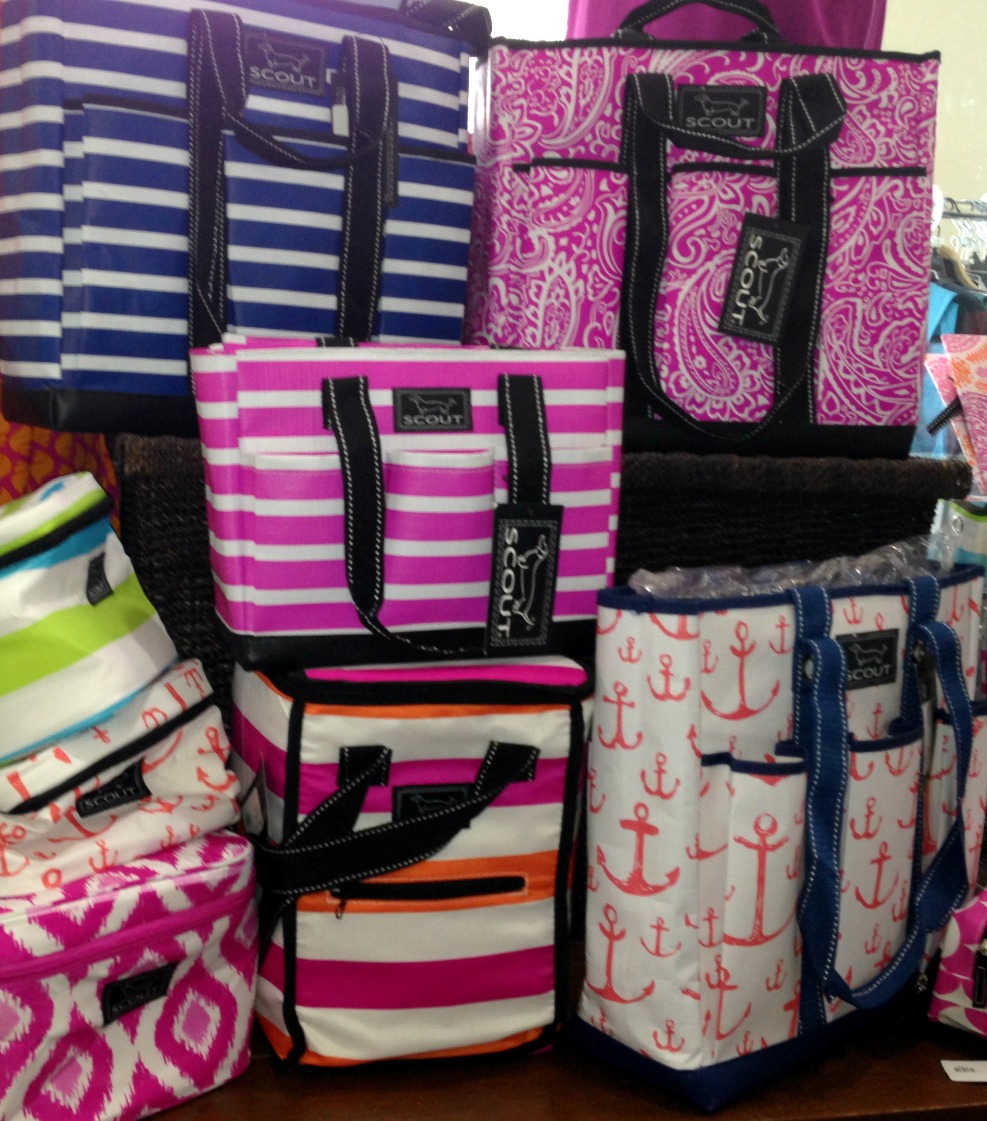 SCOUT bags bring together design and function.
They offer a variety of styles, sizes and designs.  The anchor pattern is my favorite. 
Lots of exterior pockets and heavy duty straps will make this brand your favorite beach bag tote.
An interior key ring will hold your keys and reinforced handles are sturdy and strong.   Wipe it clean with a damp cloth.
SCOUT Errand Boy Large Beach Bags
Beach Bag Totes with Lots of Pockets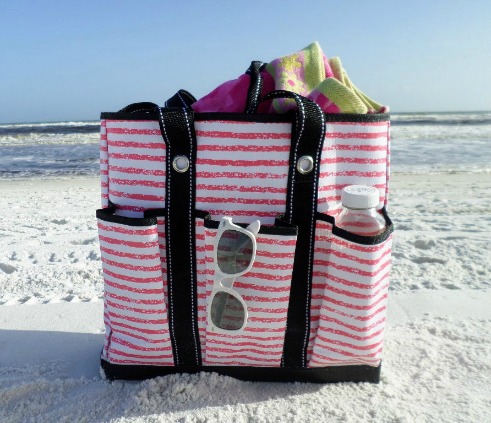 Beach bag totes with lots of outside pockets makes it easy to grab your water bottle or find your sunscreen lotion.  This colorful beach bag is waterproof and light weight plus large enough to carry your beach towel and other beach supplies.
SCOUT Pocket Rocket Multi-Pocket Beach Bag Totes
Cute Canvas Beach Bags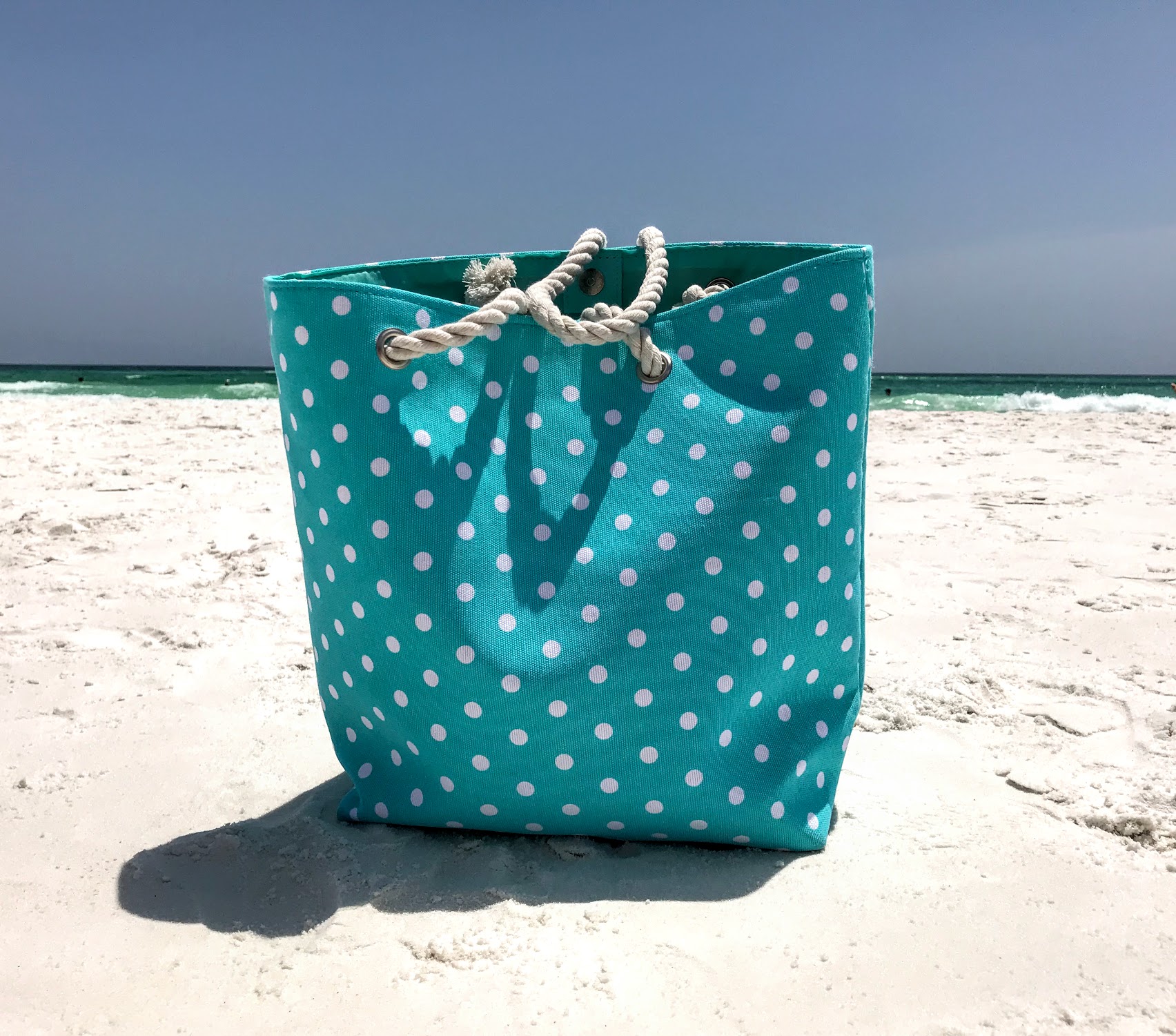 This cute canvas beach bag has a pop of color with my granddaughter's favorite beach color - turquoise.  It comes in a several colors and is water resistant.   It is also fully lined making it easy to clean any sand that might find it's way in. 
Leisureland Large Rope Handle Water Resistant Canvas Beach Tote Bag (18"x14"x6", Polka Dots Turquoise)
Beach Tote Backpack
What you will like about this beach tote backpack  ...
1. Two outside pockets to hold a water bottle on one side and sunscreen on the other. 
2.  Lightweight so you it's easier to carry
3.   Water resistant fabric to wipe clean
4.   Stylish designs and color options
SCOUT Stowaway Beach Backpack, Lightweight Water Resistant Canvas
Mesh Beach Bag
What we like about this mesh beach bag is that it's really large so it can carry our snorkel gear and towels and 9 outside pockets make it easy to find our sunscreen lotion, water bottles and sunglasses.  Sand sifts right through and for easy cleaning just hose it off.
Saltwater Canvas Family Mesh Whale Bag, Sand & Waterproof base, 9 pockets, Blue
Kids Beach Bags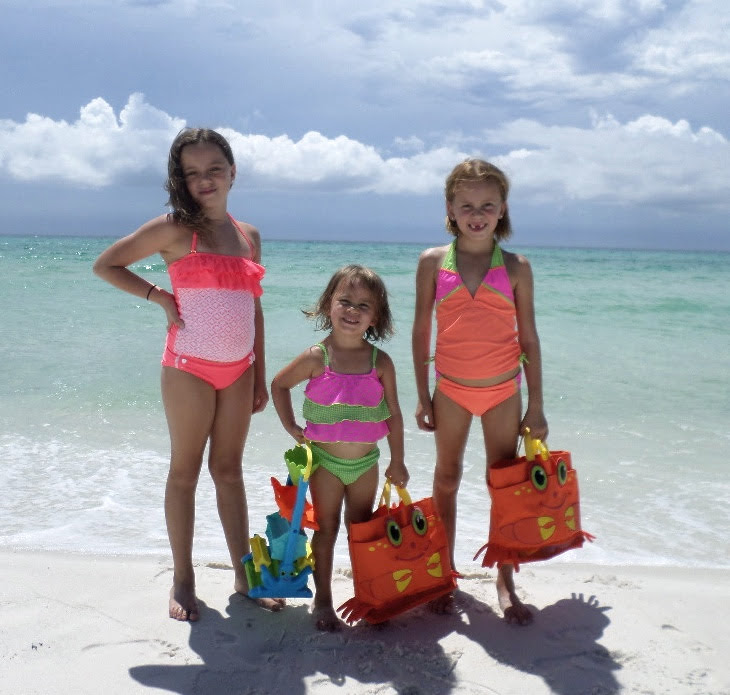 Provide beach bags for your kids so they can carry their own beach toys to the beach.  Melissa and Doug totes have a mesh bottom for the sand to flow through and the air to circulate.  It comes in the bright orange crab design or an ocean blue octopus and carries just enough essentials so the bag doesn't become too heavy.
Melissa & Doug Clicker Crab Beach Tote Bag
Striped Beach Tote Bag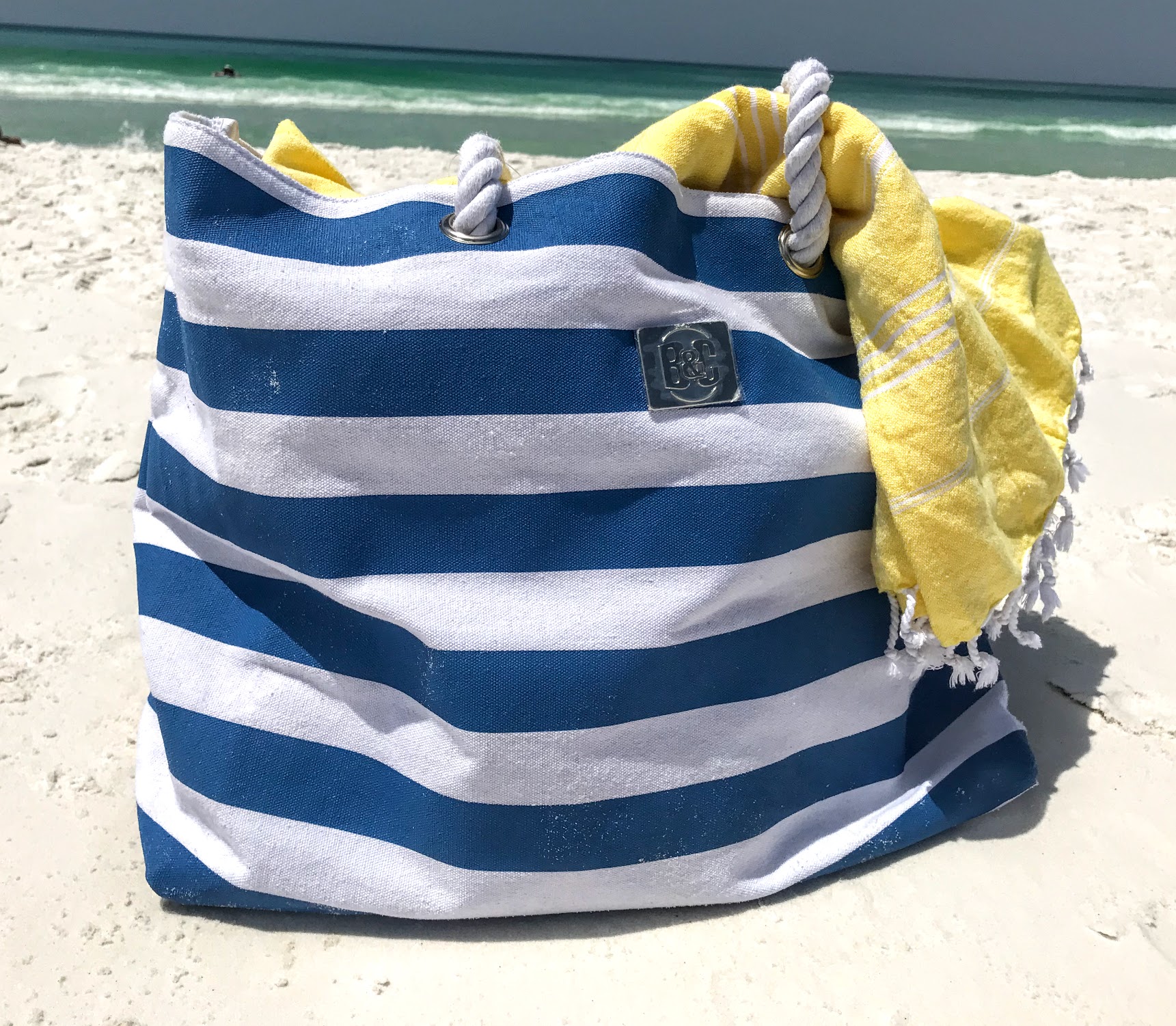 There is nothing quite as classic as a blue and white striped canvas beach bag. This one is really large and has an inside zipper pocket for valuables.  Check out your options for different colors and sizes at Amazon here:
Large Striped Canvas Beach Bags
Canvas Beach Bag
If you are looking for LARGE - this is it. Measures a full 22" in width (and 16"high and 6" deep) - so it's great for hauling stuff to the beach.
It features two pockets - an open pocket on the outside and a zippered pocket on the inside. 
Made out of sturdy, thick cotton canvas it will hold up to many trips to the beach and I might add thanks to the comfortable shoulder straps it  This roomy bag will fit several towels, beach toys, snacks, and cover ups.
Offered in several different colored bands of black, red, royal and navy blue, you don't need to spend a lot for this classic look. 
Extra Large Beach Bag
Clear Beach Bag Tote
Do you like to see what all you have packed in your beach tote bag? If so for less than $10 see all you want with this transparent PVC bag.
Zip it all up with the full zipper across the top but keep small items handy in the outside pocket. It measures 19 inches wide x 14 inches high with a  6 inch gusset.  
The tote is strong and sturdy enough to stand up on it's  own - don't be afraid to pack your sunscreen, lotion or water bottles in this easy to see and clean bag.

Clear Beach Bag
Designer Beach Totes
I love stripes and this designer beach tote offers two striped options of black and beige or red and white.
Measuring a width of 18", height of 11 inches at 4.7 inches thick, it's not as large as other beach bags, but what it lacks in size it makes up for in style.  An attached zippered pouch will keep your phone and wallet safe and protected. 
Made of canvas with faux leather handles, it has a an inside zippered pocket and two other open pockets. Large enough to carry a towel, sunscreen, sunglasses and a few other beach essentials. 
Use it all summer as a large purse and just wait for the compliments.
So if you want style and function for your designer beach tote check it out here at Amazon:
ZLYC Women's Striped Canvas Beach Handbag
Striped Beach Tote Bag
Water resistant with a cotton rope handle, this striped bag looks great at the beach or for any summer occasion.
An inside pocket secures your cell phone and wallet while the large size canvas bag can accommodate your beach towel, sunscreen, sand toys, magazines and more.  Pack it in your suitcase for travel or use it for day trips to the beach. 
Sturdy fabric means it sits upright and a plastic lining keeps your items protected. 
Large Water Resistant Canvas Striped Beach Bag - Inside Lining, Zippered Inner Pocket
Large Beach Bags
If you are looking for extra-large, this bag is for you.
It measures 14" tall, 8" wide and 11" depth.  There are 5 large outside pockets and a zippered pocket and key ring on the inside. 

The mesh fabric is durable, waterproof and fade and mildew resistant. To clean simply rinse with fresh water.  It comes in three color choices of aqua, royal blue and pink.
Super Big X-Large Coated Mesh Family Beach Bag
Waterproof Storage Bag with Waist Band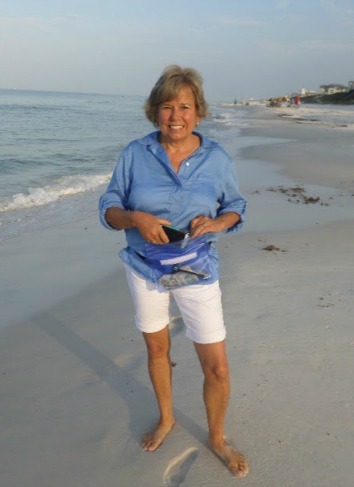 This waterproof storage bag work IF you be sure to zip ALL the ziplock carefully and completely.
If you don't close it up correctly your valuables will get wet.  The updated fanny pack is just what is needed when you don't want to leave your "stuff" behind.  
We like to walk the beach and when we get to Sea Side walk up to town for an ice cream or supper.  With this pouch I can walk the beach, get in the water and still have some cash or credit cards for a meal or purchase. 
Waterproof Pouch with Waist Strap (2 Pack) | Best Way to Keep Your Phone and Valuables Safe and Dry
Your beach tote bag can be simple and functional or fun and stylish.  Classic stripes, solid canvas or anchor designs are style options that can appeal to any beach lover. 
Go from Beach Tote Bag to Beach Fun for Everyone Home
Copyright 2008 - 2019 www.BeachFunforEveryone.com
All rights reserved. This DMCA site is protected under U.S. and International copyright laws. Do Not Copy any Content or Images. No use is permitted without written permission.

All Rights Reserved