Best Sunscreen for Kids
The best sunscreen for kids is one that not only protects your kids from all day exposure to the sun but one that also keeps them safe from harmful ingredients.  How you apply your sunscreen is just as important as selecting an effective sunscreen.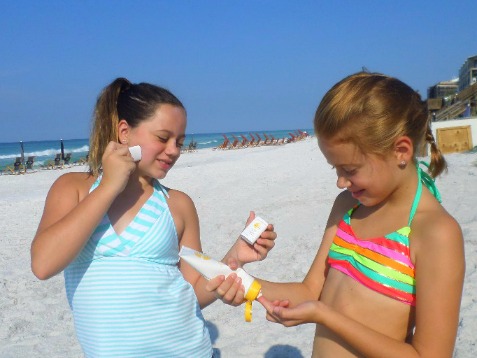 1.  When to Apply
Lotions need to be applied about 30 minutes before sun exposure.
According to www.SkinCancer.org, "Sunscreens should be applied 30 minutes before sun exposure to allow the ingredients to fully bind to the skin. 

I know who is going to think that far ahead - but try to remember this application tip for maximum protection.  

2.  How Often to Appy
"Reapplication of sunscreen is just as important as putting it on in the first place, so reapply the same amount every two hours,"  so also says SkinCancer.org.  

Playing in the water and sand can remove sunscreen lotion as can toweling off when getting out of the water.  

Is a Spray on Sunscreen the Best Sunscreen for Kids?
Should I be worried about inhaling sunscreen if I use a spray formula?  "Yes it may cause problems, says Debroa Jaliman, MD author of Skin Rules: Trade Secrets from a Top New York Dermatologist.  "The substance could get into your lungs, leading to a cough and possibly other damage."
We have used spray on sunscreen for many years.  It's the easiest way to get full coverage of sunscreen onto moving kids.  However, spray formulas may not be the safest way to go.  While it does go onto the skin quite nicely the chemicals can also get into your kids lungs.  
The FDA is currently investingating whether inhalation is harmful, so take precautions.   The Environmental Working Group (EWG)  has a list of 11 sunscreens to never buy - three of them are spray on - Neutragena Wet Skin Kids Beach & Pool Sunscreen Spray, SPF 70+ and Banana Boat Clear UltraMist Kids Max Protect & Play Continuous Spray Sunscreen, SPF 110. 
Sunscreen Active Ingredients to Avoid
Choosing a safe sunscreen can be complicated and confusing.  But here are a couple of ingredients to avoid:
Oxybenzone is a common ingredient and can disrupt the hormone system and allergic reactions. 
Retinyl Palmitate may actually contribute to more skin damage on sun-exposed skin.
Fragrances are often used to make the smell more appealing but the word "fragrance" can be a catchall phrase for chemicals that can be harmful.  
Nano Zinc Oxide - look for non-nano zinc oxide
Best Sunscreen Lotion for Kids
Besides protecting your kids from ultraviolet light you also want to protect them from harmful ingredients that contain carcinogens, hormone disrupters and allergens.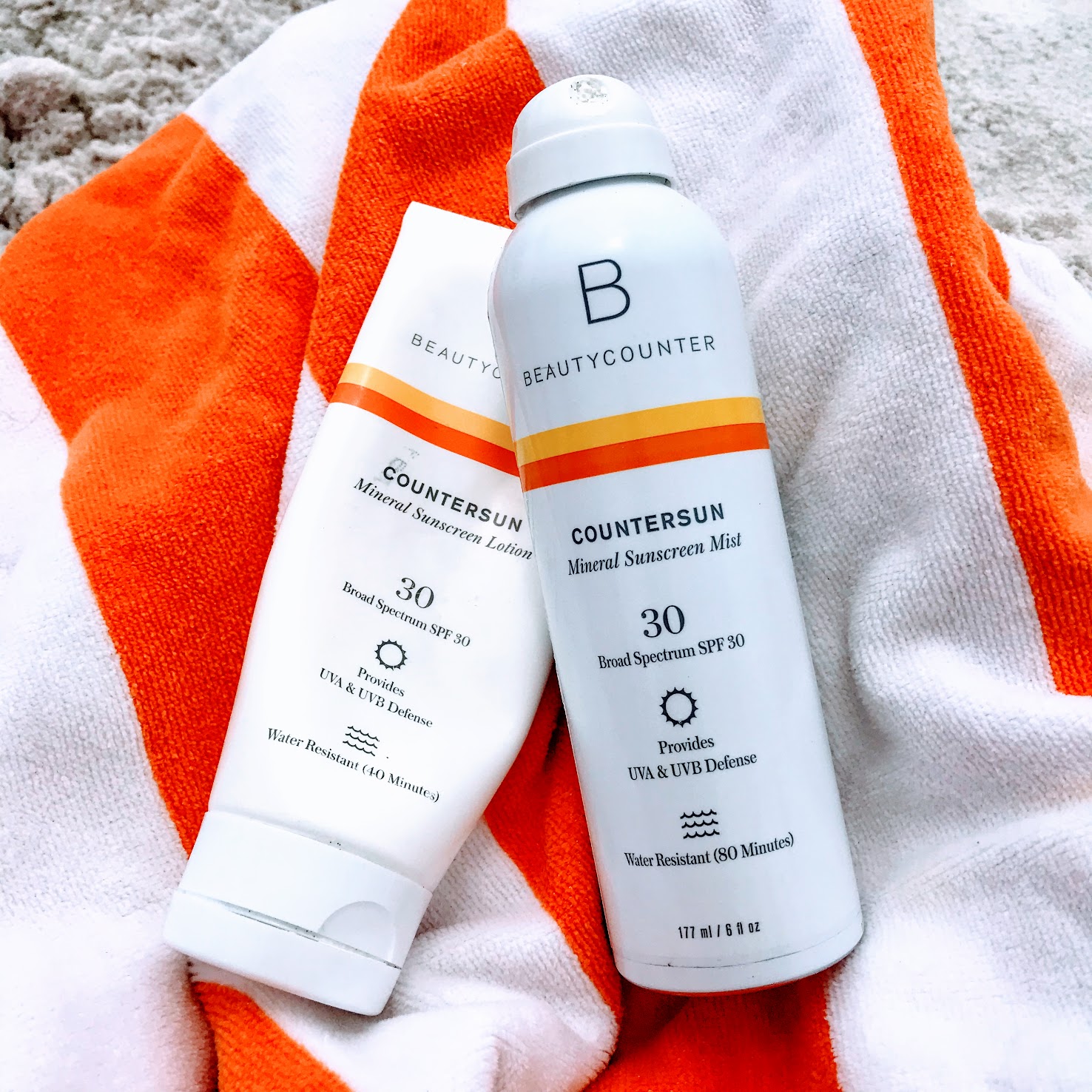 Lotions are absorbed by the skin and the chemicals and ingredients in your sunscreen are absorbed into the bloodstream.  Constant and repeated use of these chemicals can build up and affect our health.  
This broad spectrum sunscreen by Beauty Counter with an SPF of 30 protects and keeps kids safe from the sun using safer ingredients like non-nano zinc oxide, green tea leaf extract and aloe. It is the only lotion we now use when we go to the beach.  
You will like this sunscreen because it is:

1.  Lightweight and applies and blends into the skin easily with no white streaks
Stay away from spray sunscreens ( I know they are the easiest ones to put on) but breathing in the ingredients as well as absorbing them gives you double the contaminants. 
2.  Water Resistant
3.  Moisturizers
The aloe in it moisturizes the skin as well as protects the skin. 
4.  Safe
Provides 30 SPF and rates a 1 on the Skin Deep Database by the Environmental Working Group for safe ingredients with 10 being the most toxic.  Go to Beauty Counter to get your safe sunscreen here:
The Best Sunscreen Lotion for Kids by Beautycounter
It applies easily, absorbs quickly, with no white looking skin.  You will love how this lotion applies while feeling confident that what is going into your kids skin is safe.

Best Sunscreen for Kids Using a Less Messy Stick 
Many people like the convenience of a sunscreen stick. It's not as messy and doesn't get all over your hands.  
This one by Beauty Counter has a SPF of 30 and is water resistant to 80".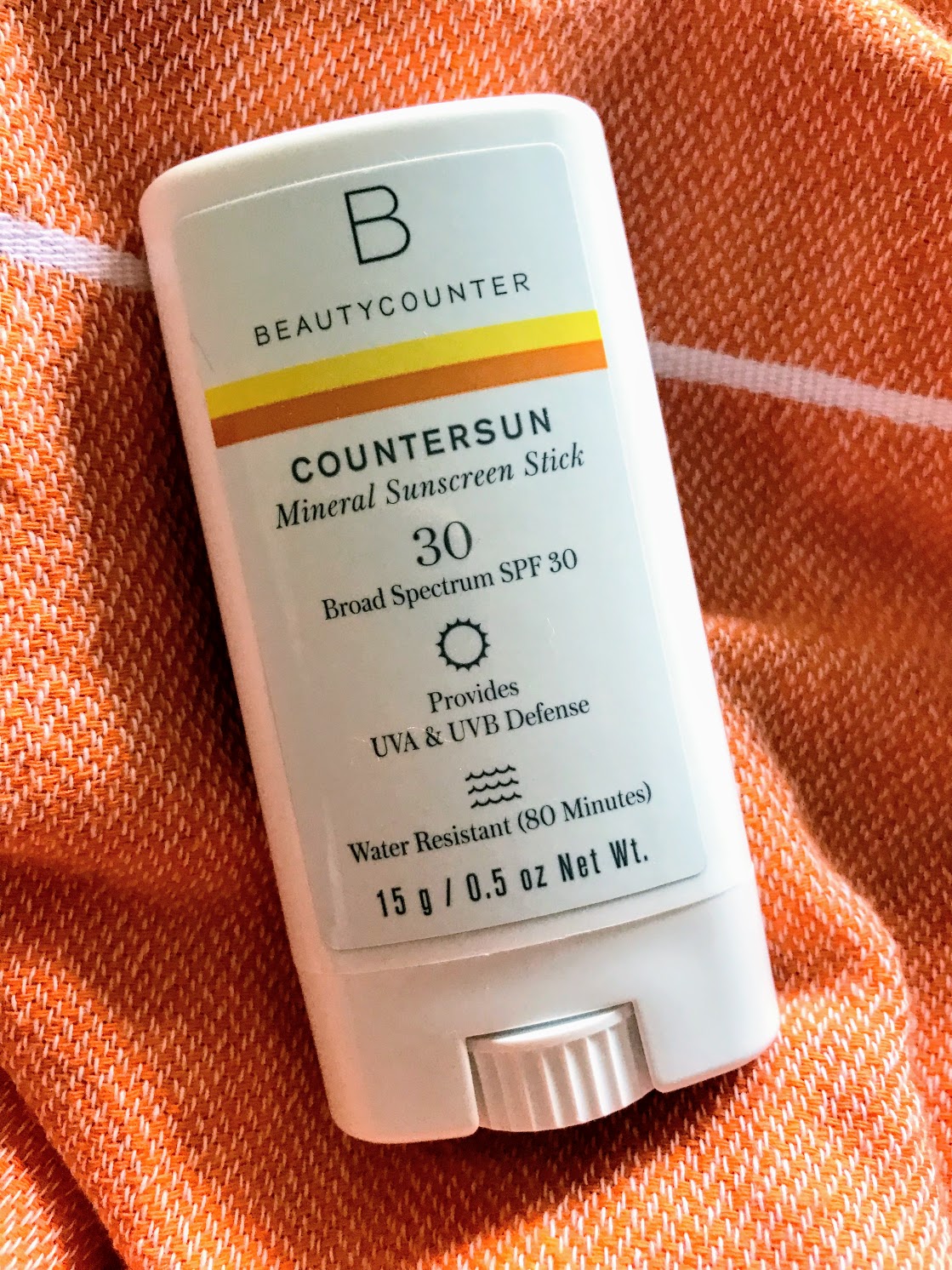 With a Skin Deep rating of 1 you will find safer ingredients so you can feel good about what you are putting on your child's skin. 

Just an FYI this stick is small and makes it great for traveling or for keeping in your purse or beach bag. 
Use it on your kid's face - easy to apply, quickly absorbs and is convenient to use.  
Best Sunscreen for Kids Using Stick
Be safe from the sun and from harmful ingredients by being informed about the safety of your kids sunscreen. 
Sun Protection for Children
Clothing, Sunglasses, Shade and Timing
If you are spending a full day at the beach don't just rely on sunscreen to protect your kids skin.  Why?  If they are in and out of the water, the water or toweling off will remove the lotion so it needs to be reapplied often - as often as every two hours.  Other ways to protect your kids are:
Wear Sun Protection Clothing for Kids: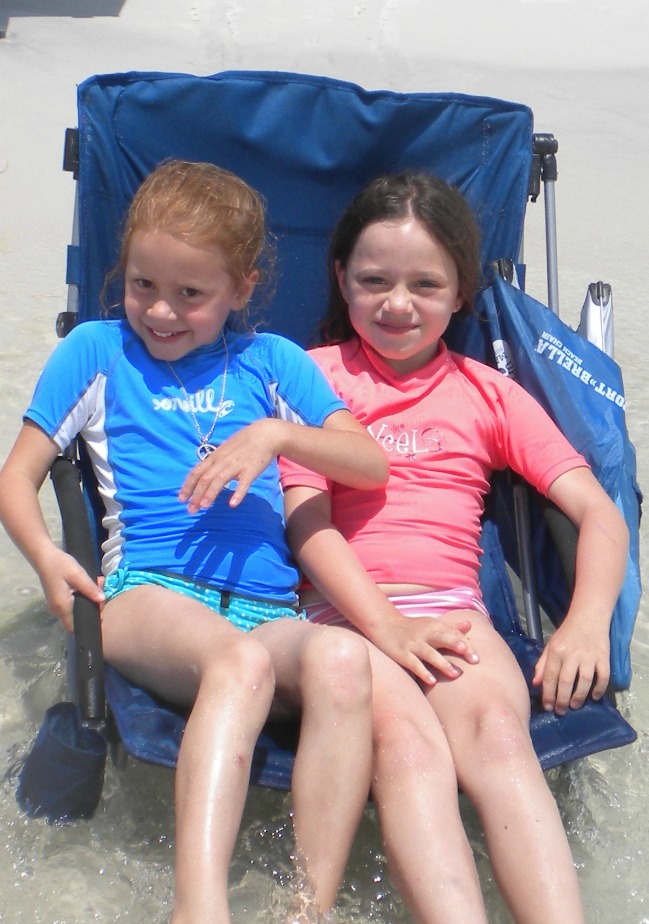 Rash guards protect the upper back, shoulders and arms if you choose one with long sleeves. 
O'Neill Youth Skins UPF 50+ Long Sleeve Sun Protection Shirt
Provide Shade with Beach Umbrellas

When kids are not in the water have them rest, play in the sand and eat under a large, portable beach umbrella or canopy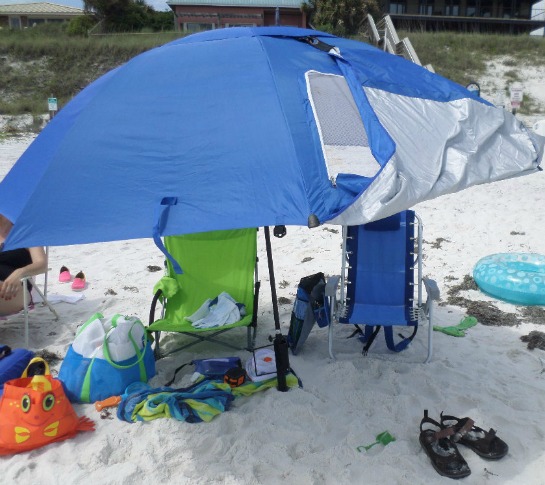 Go Outside During Safer Hours

We have found that the most pleasant times at the beach are in the morning and late afternoon or early evening. 

We not only miss the hottest time of the day but also when the midday sun rays are most damaging.

Find Cool Sunglasses for Kids to Wear

Finding cool sunglasses for kids to wear may just have gotten easier.  For the beach it's important that the lenses are polarized.


For kids to want to wear them they need to feel comfortable and look good.  Wrap around offer better protection and sunglasses with straps will help prevent them from getting lost. These glasses fulfill that need. 
Sunglasses for Kids
Go from Best Sunscreen for Kids to Kids at the Beach
Go from Best Sunscreen for Kids to Beach Fun for Everyone Home
Copyright 2008 - 2023 www.BeachFunforEveryone.com
All rights reserved. This DMCA site is protected under U.S. and International copyright laws. Do Not Copy any Content or Images. No use is permitted without written permission.

All Rights Reserved