Portable Beach Umbrella
Pack your portable beach umbrella and be ready to spend the day at the beach.  Choose one that fits your style or fits your family.  They come in different sizes, of 7'-9' with most of them at around 7'.

Tilt Portable Beach Umbrella
The purpose of an umbrella is to provide shade - which would work great if the sun didn't move :).  That's why it's important to have a tilt feature so that as the sun moves - you don't have to move your umbrella - just simply tilt it.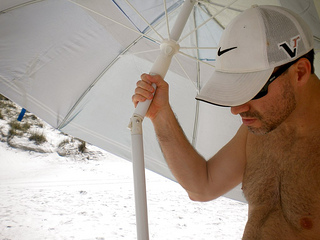 Unlike other portable beach umbrellas Nautica Beach Umbrella has a tilt feature. When the sun moves just tilt the umbrella a different direction and you will be protected from damaging UV light.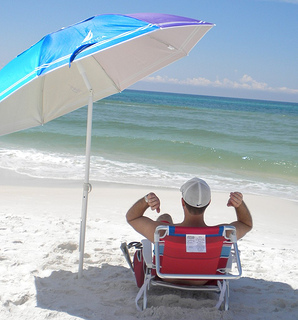 Beach Umbrella and Wind
The two things that keep your umbrella from blowing over or away is a vent at the top and strong anchoring in the sand.
A vent at the top provides wind protection and more stability so that it won't blow away on a windy day.
Another feature that makes the Nautica beach umbrella the best beach umbrella is how it goes (and stays) into the sand.
It is called a power twist.
See the two handles on the umbrella pole - just twist them and the pole goes right into the sand - nice and deep.  For durability, high quality fiberglass ribs stand up to the wind so they don't bend or break like cheaper umbrellas. 
Nautica Beach Umbrellas
Portable Beach Umbrella with Beach Umbrella Stand
Want an easy to carry portable beach umbrella that also includes a beach umbrella stand that holds up even on windy days?
One of the best systems for an easy umbrella set up that holds up on windy days is the beachBUB.  Weighing only 9# it's easy to transport thanks to a large carrying bag with a padded strap.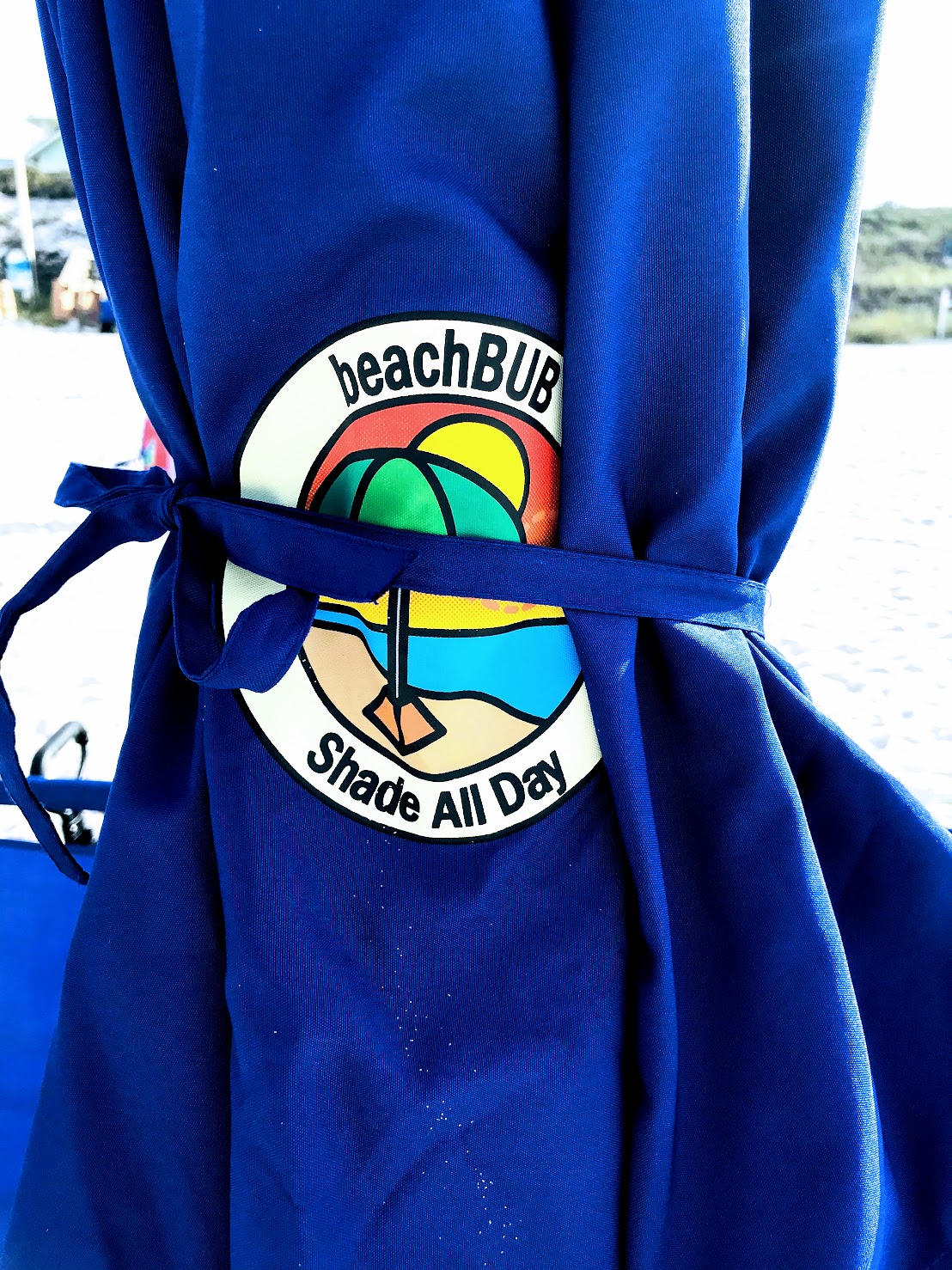 Just fill the stand with sand and you have a base that will support your umbrella. No need to anchor it - it sits on top of the sand like a patio umbrella sits in a stand on a patio.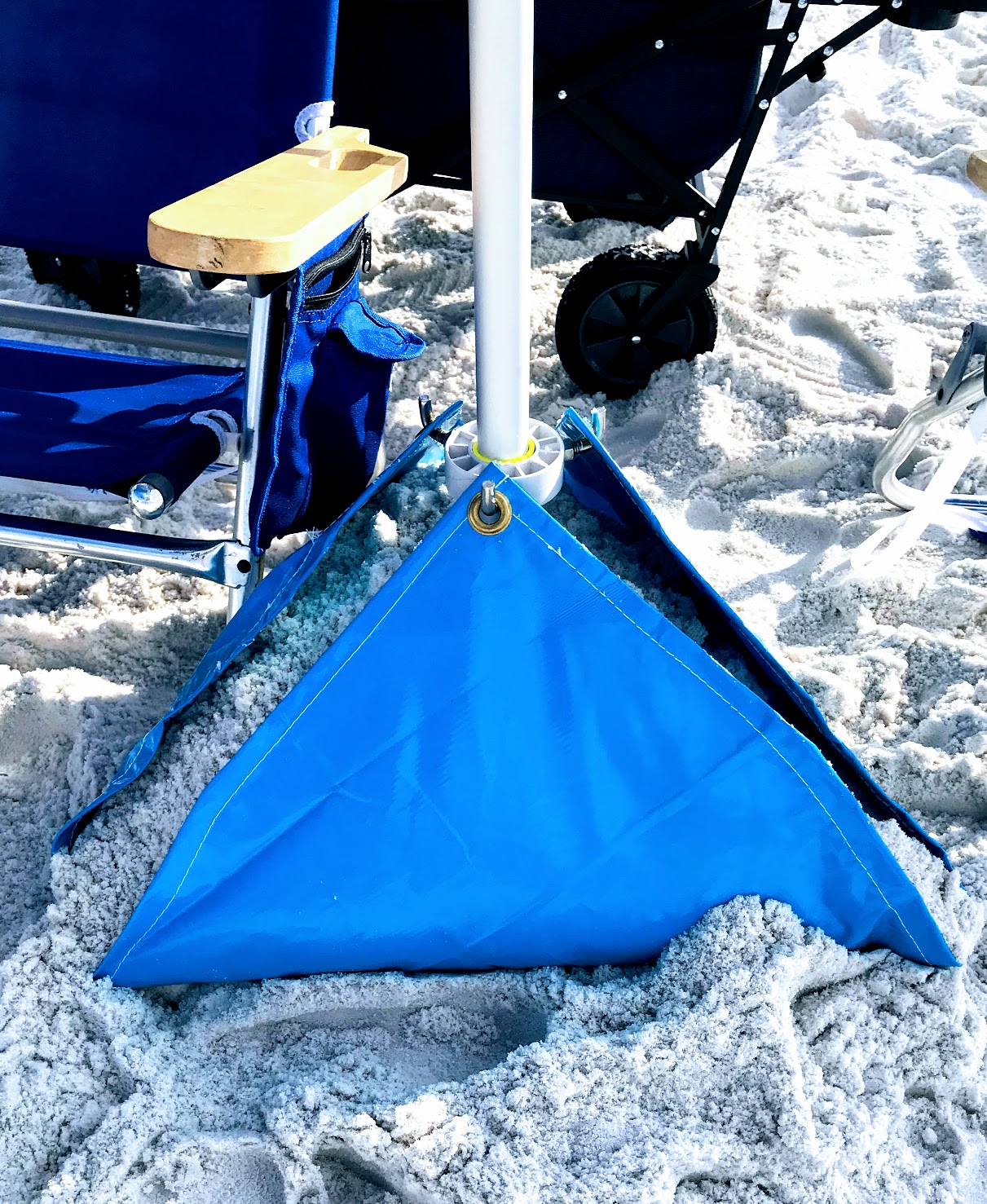 The umbrella size is a 7 1/2' canopy for lots of shade and the base weighs 120# when filled with sand.  With a UV rating of 50 you'll find lots of good protection from the sun.   This durable umbrella features a thick canvas fabric and heavy duty ribs to give you years of use.
BEACHBUB All-in-One Beach Umbrella System. Includes 7 ½' (50+ UPF) Umbrella, Oversize Bag, Base & Accessory Kit
Tommy Bahama Portable Beach Umbrella
Vented Top and Tilt Pole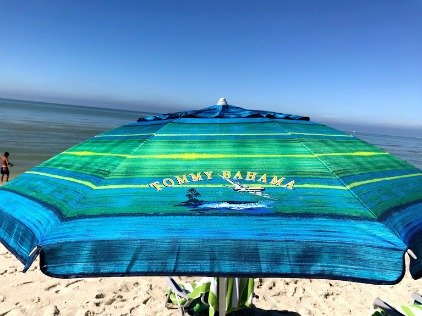 Tommy Bahama is a well known and respected brand for beach gear.  Always innovative in coming up with new ways to make a day at the beach more colorful and comfortable. I guess they figured that out as the Tommy Bahama umbrella was the beach umbrella of choice at Kapalua Bay Beach in Maui. 

A portable beach umbrella can now keep you in the shade all day without having to move it thanks to a new tilt feature.
They have added a wind vent at the top to stabilize your umbrella and a tilt feature so you can change the angle of your umbrella as the sun moves.
The umbrella is anchored into the sand by twisting it.  It comes with a slip on case and a strap to carry it on your shoulder.   This lightweight beach umbrella is easy to use and set up, keeps you shaded all day and stays in place with a sturdy sand anchor.

Tommy Bahama Beach Umbrellas
Portable Beach Umbrella - Telescoping Rotating and Tilting
For the ultimate in UV protection for spending the day at the beach this portable beach umbrella can be adjusted to any angle, tilt or height so you can be protected from the sun anytime of the day.

With the 360° tilting mechanism and telescoping design, you can easily adjust the angle and height throughout the day. Sturdy carbon fiber ribs and a pole made out of aviation aluminum alloy make it wind resistant yet lightweight for portability.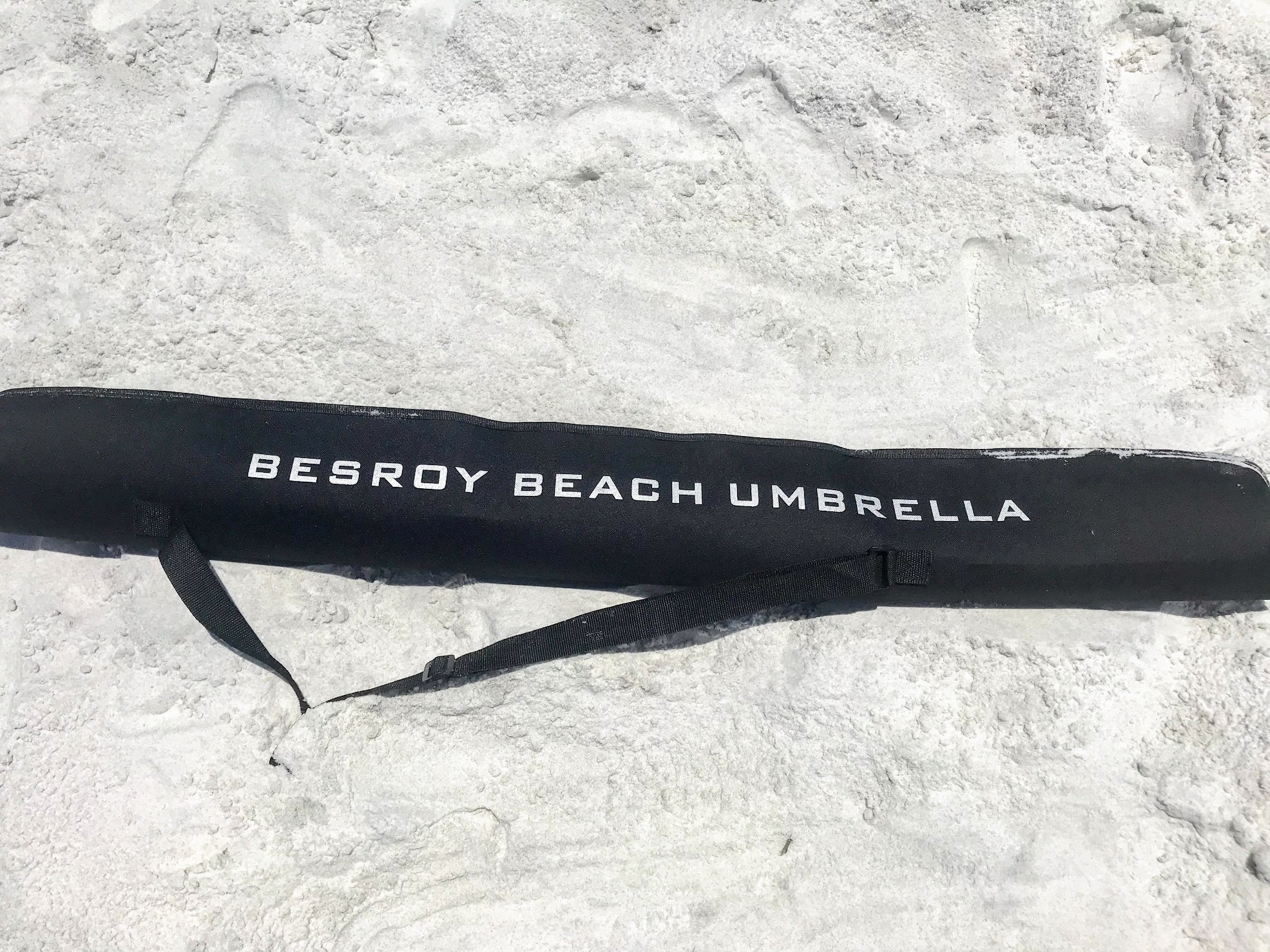 A handy bag with a shoulder strap makes this beach umbrella easy to transport.

BESROY Portable Beach Umbrella -Telescoping Pole, Windproof Stakes,UV Protection, 360° Rotating
Portable Beach Umbrella Tips to Secure Your Umbrella
Where there is beach, there is wind.  It's not unusual to see a beach umbrella get lifted and tossed by a strong gust of wind.  

To keep your umbrella secure stabilize it with a beach umbrella anchor and keep it closed and tied when not in use.
Portable Beach Umbrella Stand and Anchor
Better than metal sand anchors, this sturdy plastic beach umbrella anchor uses sturdy ABS plastic that is actually stronger than metal and won't rust from the sand and or ocean water. Hold the anchor straight up (not at an angle), press down firmly while twisting. Keep turning until the anchor is securely in the ground. Go as deep as possible.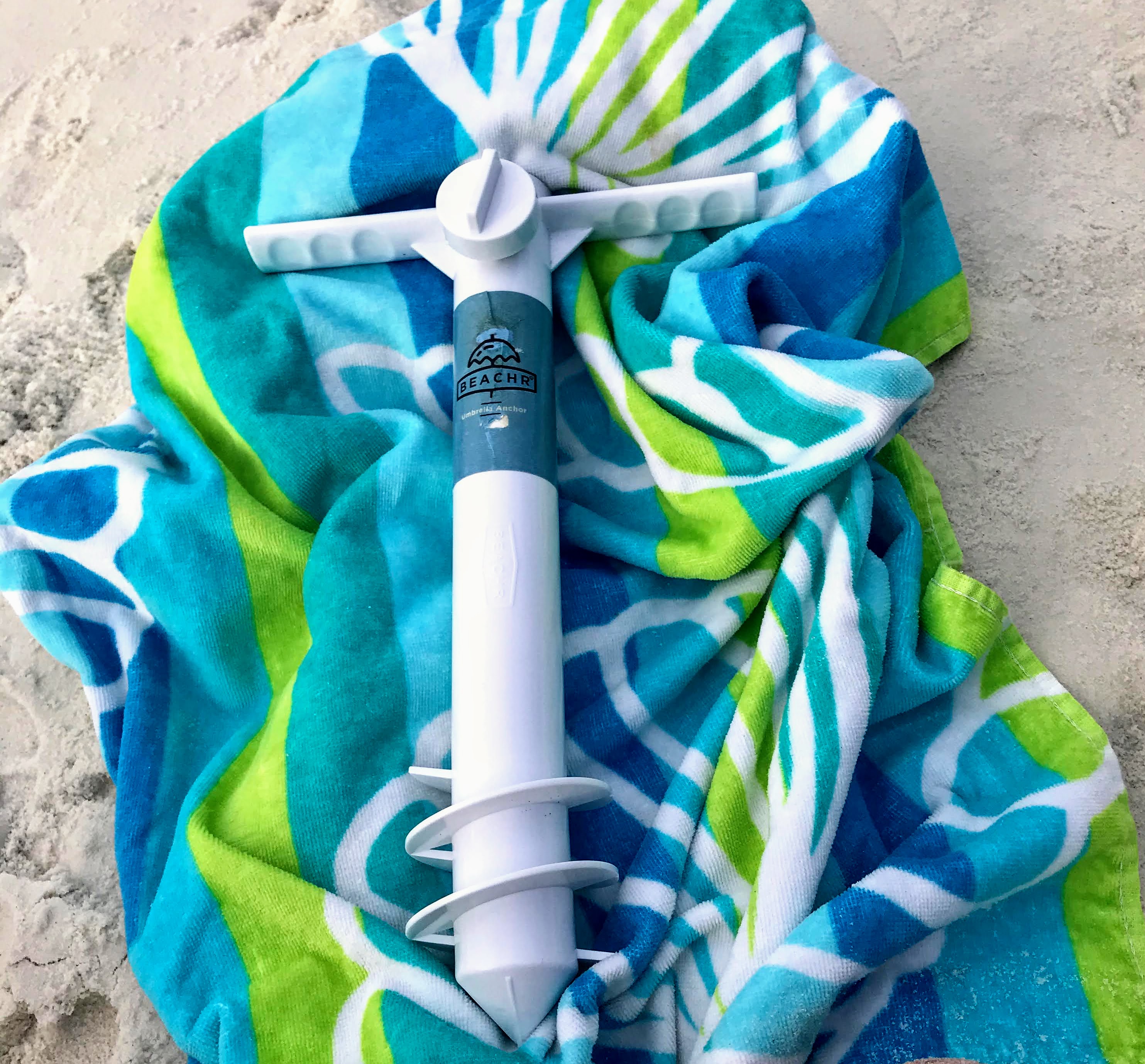 This beach umbralla stand is universal and fits all pole sizes. Place your umbrella pole in the anchor and fasten screws tightly.
 Keep your beach umbrella stable for windy days at the beach. Goes nice and deep into the sand.  Those who appreciate this accessory the most are those who have experienced windy days at the beach.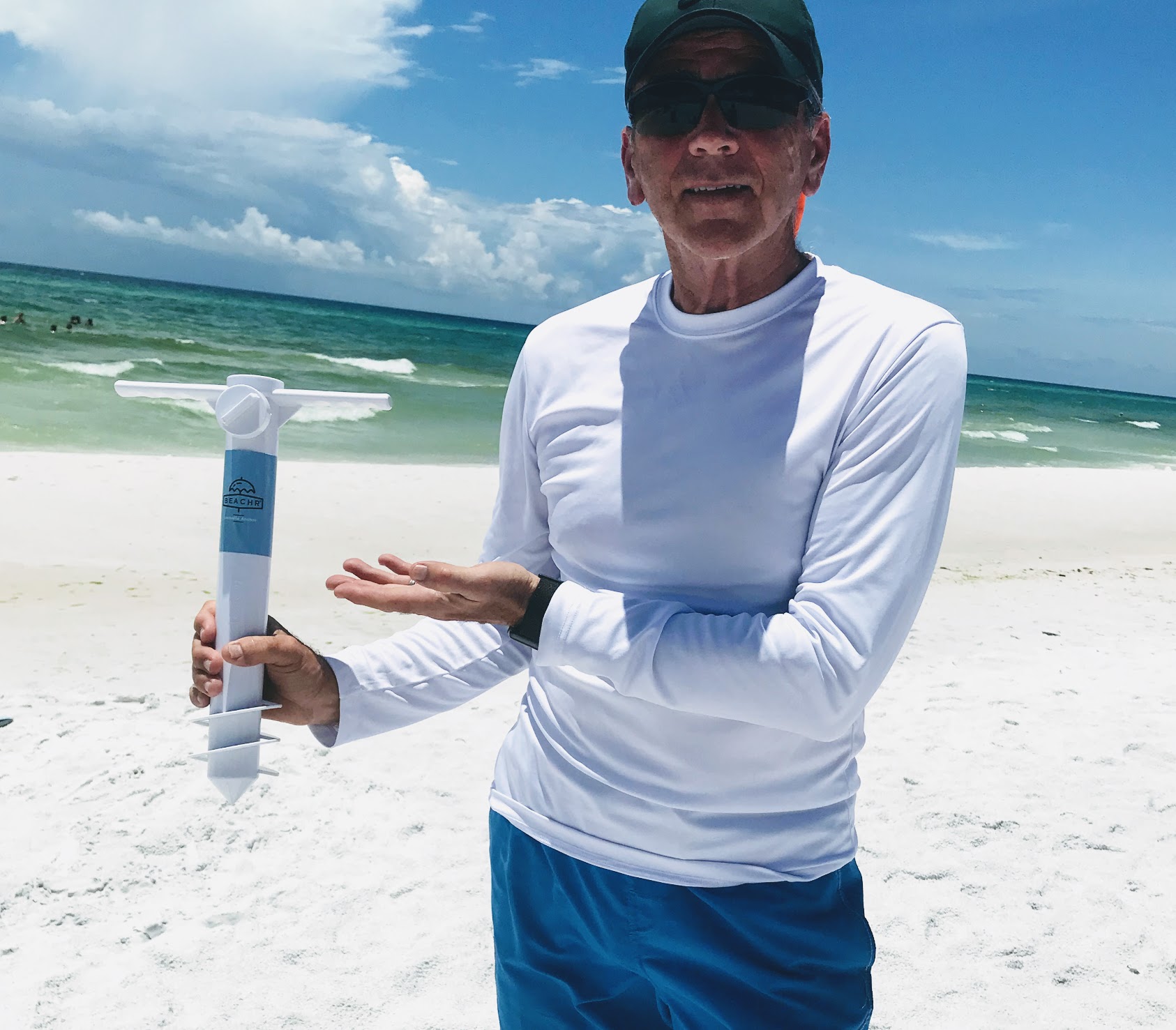 Beach Umbrella Sand Anchor -One Size Fits All; Safe Stand for Strong Winds
Portable Beach Umbrella Hook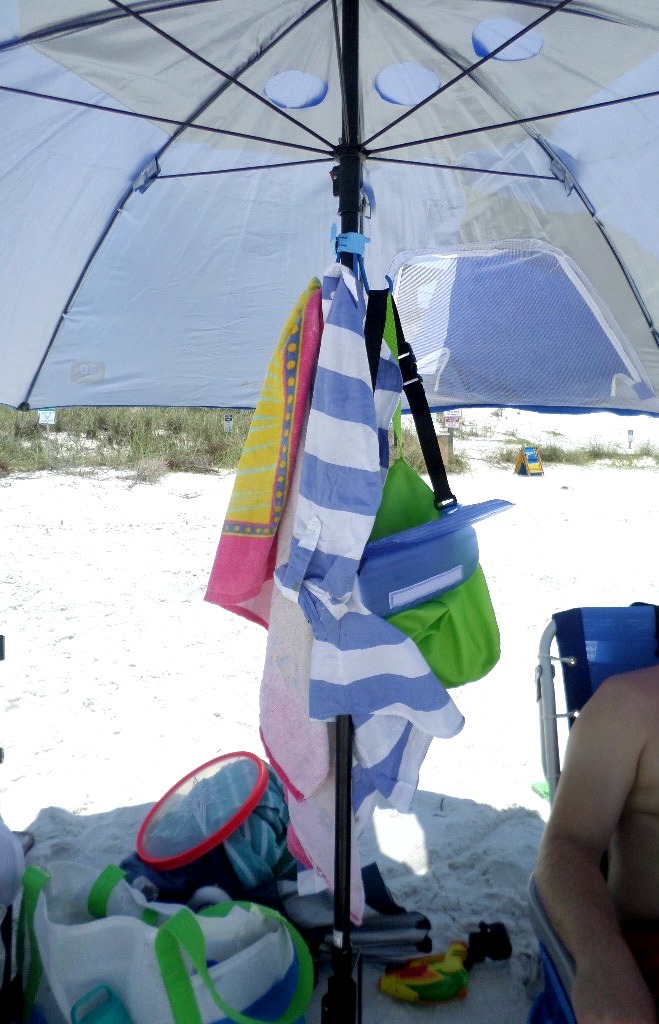 Use it for your camera, beach cover up, beach bag or anything else that you don't want to get sandy.

The extra weight from the hanging items stabilizes the umbrella and leaves more space under the umbrella.

Beach Umbrella Hanging Hook,4-prongs Plastic Umbrellas Hook Hanging for Towels,Sunglasses,Bags
Return to Beach Fun for Everyone Home

Copyright 2008 - 2023 www.BeachFunforEveryone.com
All rights reserved. This DMCA site is protected under U.S. and International copyright laws. Do Not Copy any Content or Images. No use is permitted without written permission.

All Rights Reserved