Beach Chair Accessories
Beach chair accessories still come in handy even though many of today's beach chairs come with coolers, headrests, and towel bars.  You may find yourself getting so comfortable there won't be any reason for you to get up.

Beach Chair Accessories for Shade
Clamp on Umbrella
A clamp on umbrella always comes with us to the beach.  This means I can move my chair anywhere I want to and still have shade. 

Even though we put up a large beach cabana tent or pop up tent, I like to sit close to the water and let the waves wash up on my feet. 

Lightweight and easy to carry, this beach chair accessory makes it possible to keep my feet in the water and my face in the shade. The umbrella can swivel and adjust to any position - so no matter where the sun is you can have your own little piece of shade.

Easy to attach to just about any chair arm or head post, you can have instant shade or remove it for instant sun. 

The clamp simply screws on to the post with a simple twisting motion and is removed just as easily.  
It is well worth the money and free shipping if you are a Prime Member. 
Sport-Brella Versa-Brella 4-Way Swiveling Clamp On Umbrella
Beach Chair Accessories for Your Stuff



This beach chair caddy is the perfect companion to your lounging experience.  All of your beach essentials are handy, easy to find and protected from the sun and sand. 

A large zippered pocket holds a Kindle Paperwhite or other type of tablet.  

A mesh pocket holds a small water bottle or a tube of sunscreen.  Put your cell phone in another pocket to keep it handy but away from the sand.
It simply attaches to the arm of your chair with adjustable straps that buckle. 
A shoulder strap can be used to carry it. Keep your valuables and electronics handy and safe from the sand all in one place.

HandyPockets Shoreline Tote Bag and Chair Organizer
Beach Chair Table/Tray
This handy beach chair table/tray can hold your favorite drink, cell phone and more.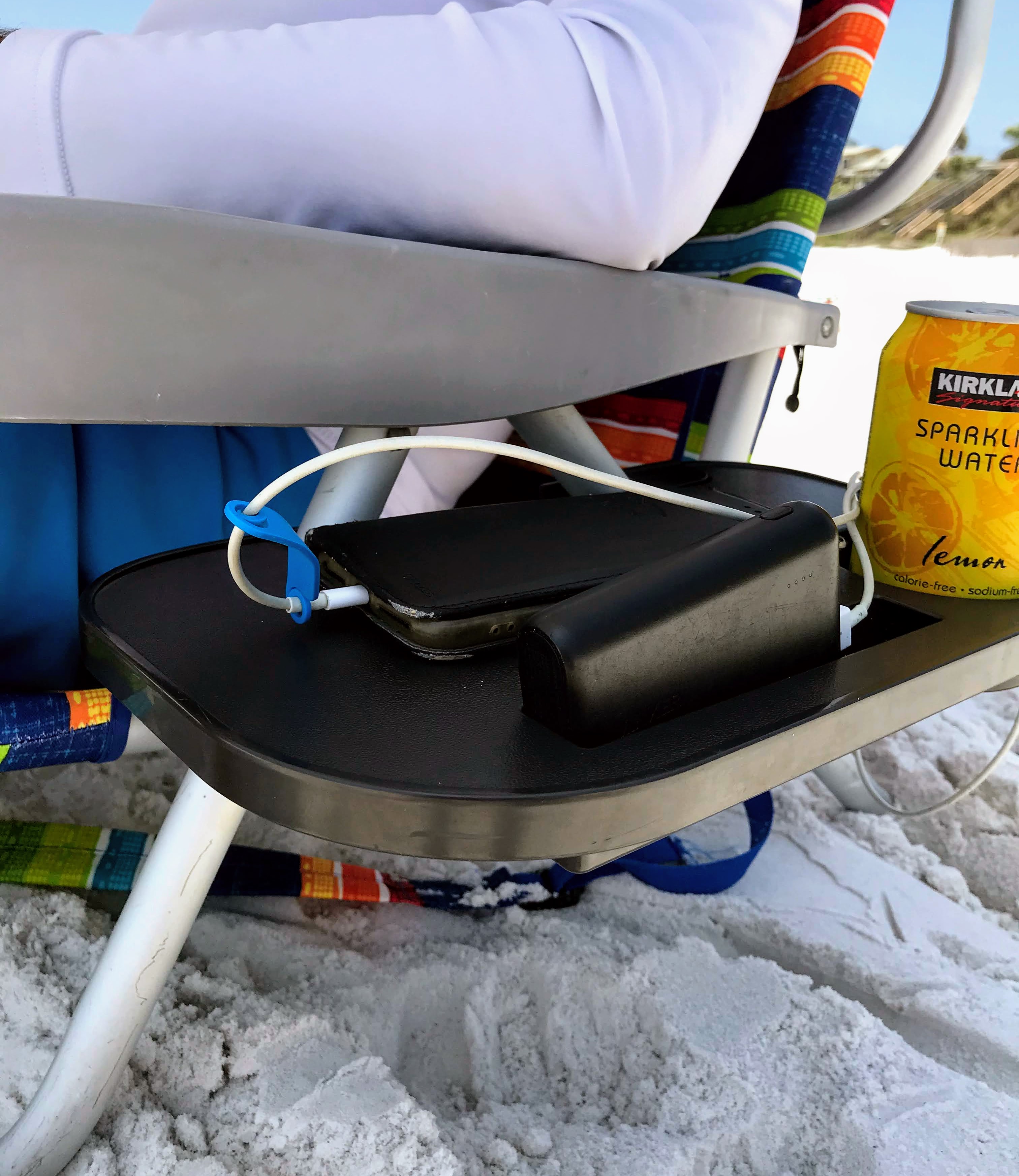 Simply attach to the legs of your beach chair and voila - you can keep your personal items sand free.

Beach Chair Accessory - Attached Tray/Table
Folding Beach Table
Enjoy sand free food and drinks while keeping other valuables dry and clean on a portable folding beach table.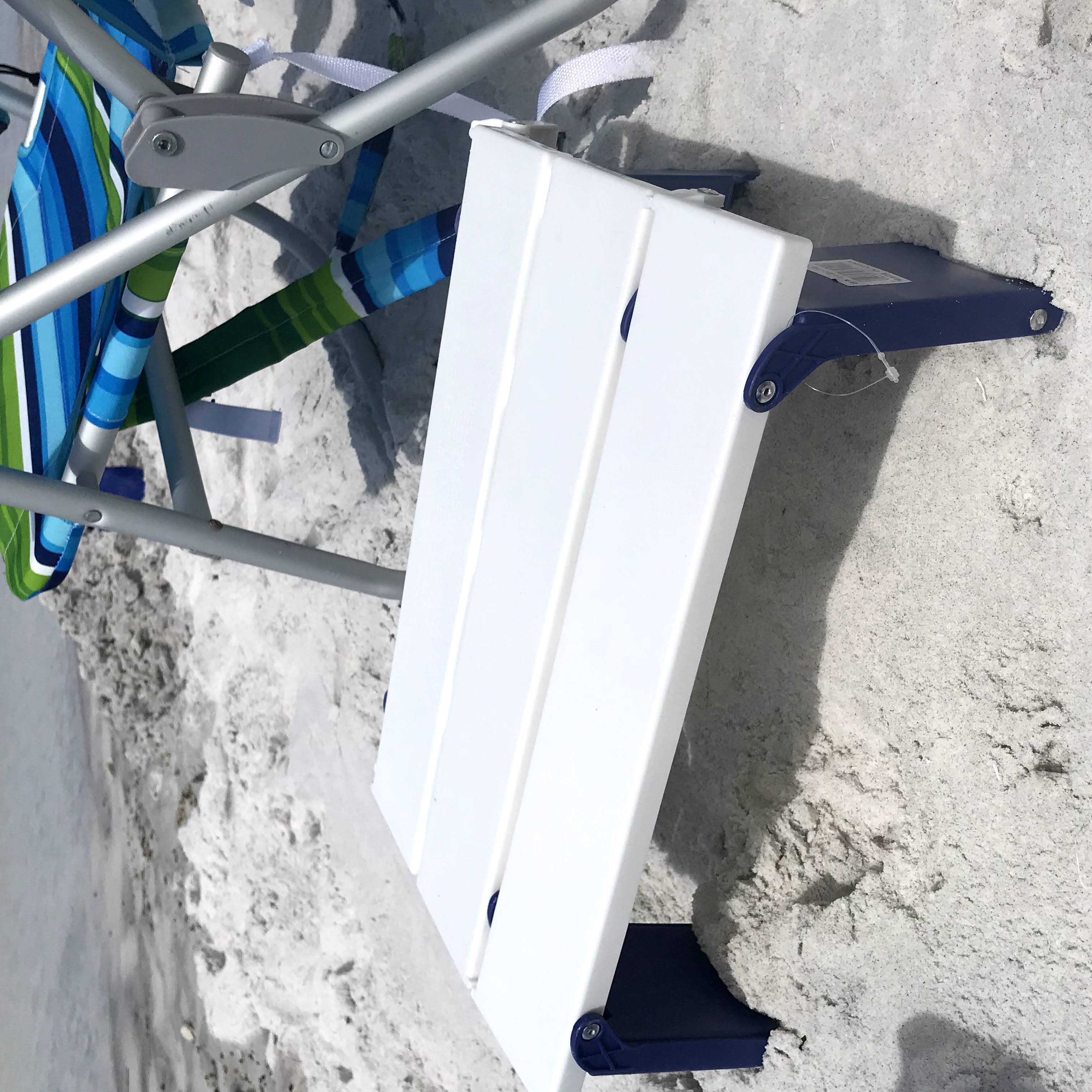 Made of hard durable plastic, this table offers two adjustable heights.  A powder coated steel-frame makes for a rust-resistant sturdy table.

Rio Brands Folding Beach Table
Reading at the Beach
One of our favorite things to do at the beach is to catch up on some good reading. I've brought waterproof cases for my Kindle Paperwhite in the past, but no longer.

Not that I intend to read in the ocean, but I do like sitting in a chair with my feet in the water, close to the ocean waves ... which means a large rogue wave can get more than my feet wet.  The Paperwhite is easy to read in the sunshine and I like that I can easily switch to a different book depending on my mood.

Kindle Paperwhite – Now Waterproof with 2x the Storage
Beach Chair Clip on Fan
Clip on fans make all the difference in comfort at the beach.  
Keep cool and keep the bugs away with this USB rechargeable portable fan.
Clip it onto your beach chair, canopy or tent for a cool, constant, comfortable breeze.
Sometimes there just isn't a breeze, so you bring your own with this portable clip on fan.  A rechargeable battery makes it convenient so you don't need to keep a supply of batteries on hand.  
Just clip it onto your beach chair and you'll feel instantly cooler.
Clip On Fans
Sand Free Drink Holders
Most beach chairs have pathetic beverage holders - often just a flimsy piece of netting or a cup holder that' doesn't happen to fit your choice of favorite beverage so we bring along a spiked beach drink holder that keeps your drinks away from the sand but stable so there is no spilling.

Just push the spike into the sand next to your beach chair.  It doesn't matter what size your water bottle is or what kind of can you have - it will fit and stay put in one of these holders.   Made of heavy duty molded plastic, this beach chair accessory keeps your drinks out of the sand.  Not just for drinks either, place your sunglasses, cell phone, sunscreen or keys in them as well.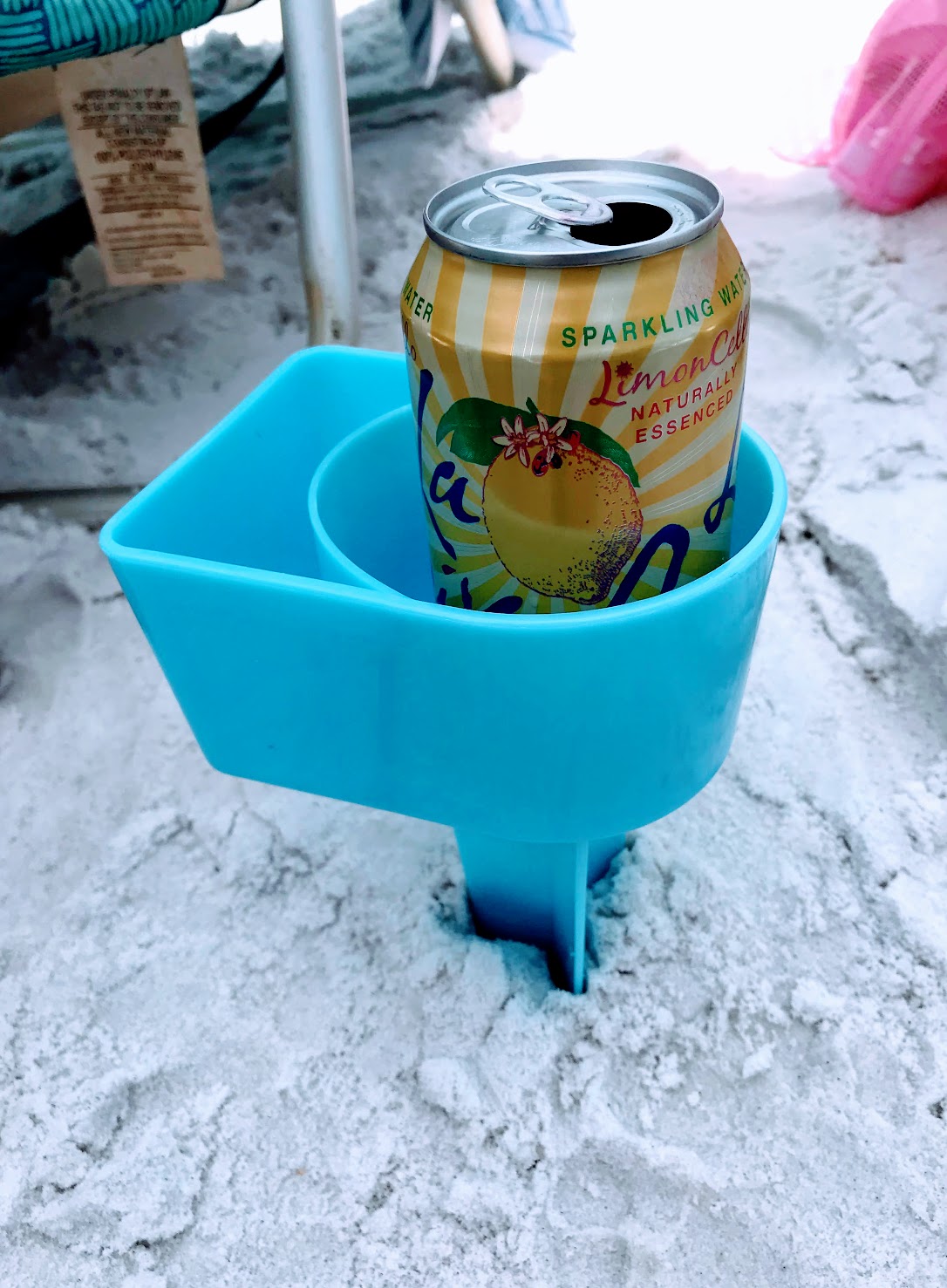 Spiked Beach Cup Holders
Beach Towel Clips
Beach towel clips keep your towel secure so it doesn't blow off your chair. This handy set of 8 clips come in pairs of bright colors. 
A strong spring and a mouth that opens wide makes it applicable for other uses like securing a tablecloth to a picnic table. 
8 Pack Colorful Beach Towel Clips
With a few beach chair accessories you can enjoy shade from the sun with a clamp on umbrella, sand free food with a folding beach table and a handy beach chair caddy to store your cell phone and valuables. 
Go from Beach Chair Accessories to Folding Beach Chairs

Return to Beach Fun for Everyone Home

Copyright 2008 - 2023 www.BeachFunforEveryone.com
All rights reserved. This DMCA site is protected under U.S. and International copyright laws. Do Not Copy any Content or Images. No use is permitted without written permission.

All Rights Reserved