Folding Chaise Lounge

A folding chaise lounge awaits you under the shade of a blue canopy for a respite from the sun and waves.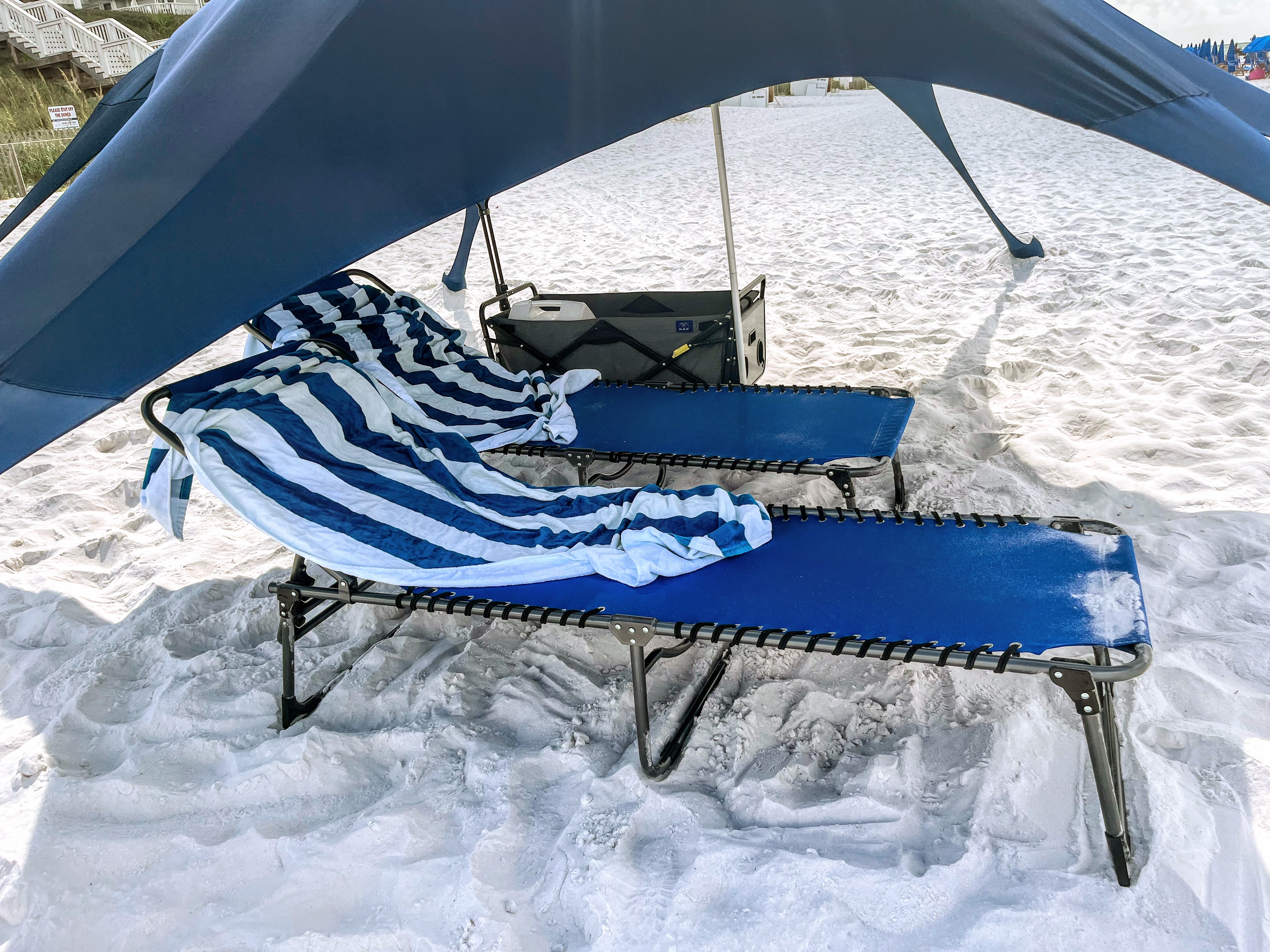 Zero Gravity Lounge Chairs
A zero gravity lounge chair provides the ultimate in comfort and options for reclining positions.

Look for some of these features:
Headrest

Lightweight enough to carry to the beach
Oversized to hold more weight
Lumbar support
Side Table
Extra Padding
Canopy for Shade

Zero Gravity Lounge Chairs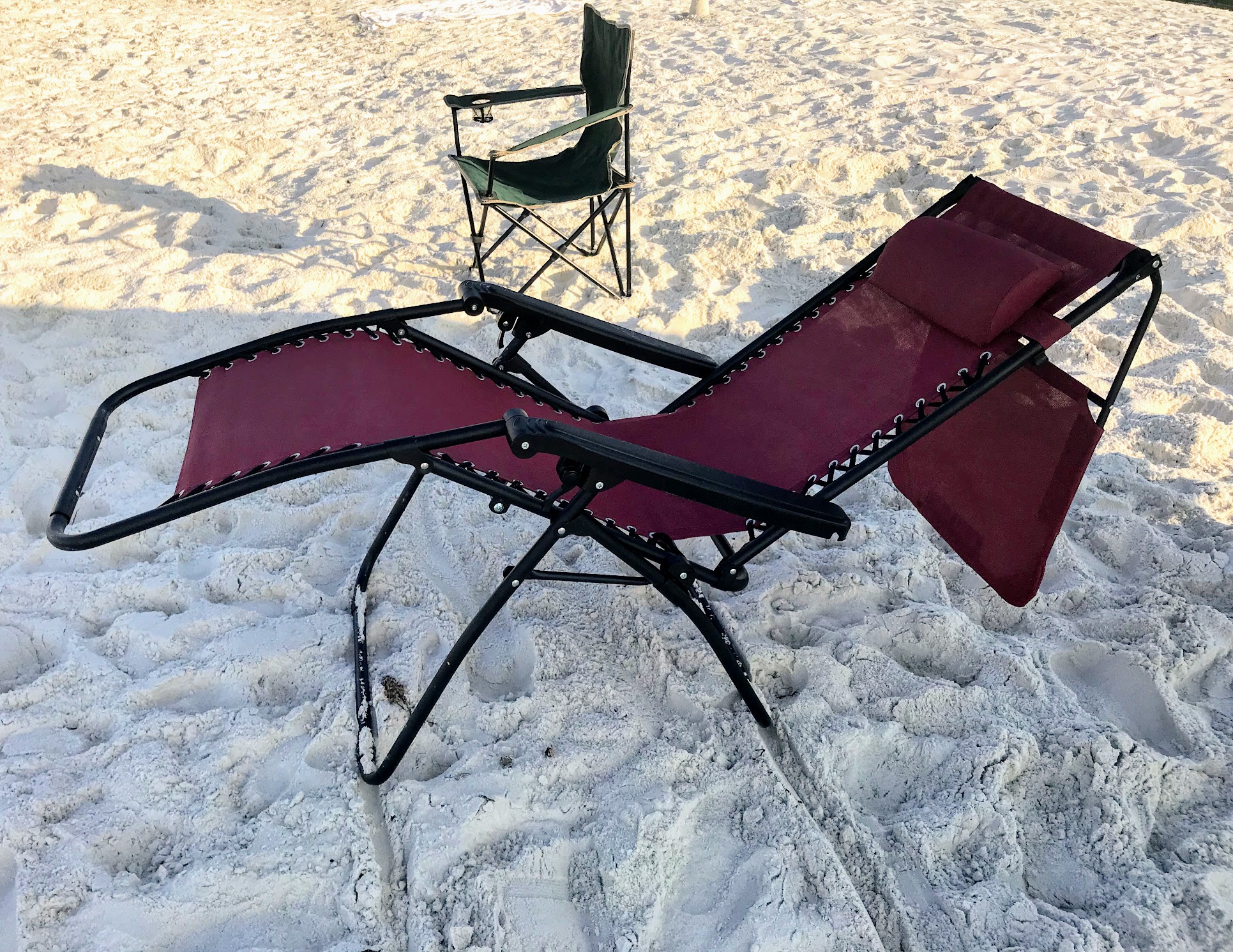 A zero gravity chaise lounge is perhaps one of the most comfortable ways to relax at the beach.
Head resting, feet up, nice breeze and warm air - what's not to like about it. Well - it may be getting it there.
This one has almost all 5 star ratings at Amazon for comfort - but it weights 20 pounds. So carrying it far is not going to be fun - unless you have a strong, and willing - husband, friend etc who will carry it for you or a big beach utility cart.
Some of the features that make this lounge otherwise perfect for the beach is the lumbar support, breathable mesh fabric and an adjustable head rest.
Caravan Sports Infinity Zero Gravity Chair
3 in 1 Folding Chaise Lounge
Lightweight, easy to fold and a side table make this lounge chair a beach favorite.
Made of durable mesh fabric it offers 5 reclining positions and 3 foot rest positions to get you relaxing in what's most comfortable for you. You can lie on your back or stomach or convert it to a folding beach chair.
It weighs about 10 lbs  and can hold up to 275 lbs. 
Ostrich 3 in 1 Beach Chair with Side Tray
Lightweight Folding Chaise Lounge
This lightweight yet sturdy beach lounger can easily make its way to your favorite beach.
Get comfortable using one of the 5 reclining positions and included headrest. Stay cool with it's breathable mesh fabric that lets air circulate and also dries quickly.  An easy set up that includes a shaded canopy that can be adjusted so your face is protected from the sun. 
Check out the great reviews at Amazon here:
LYFESTYLE INNOVATIONS Cool Lounger
This 3 position folding chaise lounge has a headrest for relaxing on your back or a face hole for resting on your stomach - which makes it possible to read if you place your book in the sand.
Comes with a carrying strap for walking to the beach.

It is lightweight - around 6-7# but I suggest using a beach cart to carry all of your gear.
Make sure you always fold the bottom legs out first, and then sit on it.

Ostrich Lounge Chaise
Beach Chaise Lounger

A less expensive beach chaise lounger is this one made by ErgoLounger.
It sits higher off the ground - 18" making it easier for someone to get in and out.
There are 5 adjustable positions - with the ability of lying completely flat. It is 77" long and can hold a person up to 300 lbs.
The special headrest and opening gives the option of lying on one's stomach for a nap or place a book or magazine on the ground to read.
Comfort comes in lots of different ways - this lounger actually is therapeutic thanks to the way it supports the head, neck and lower back.   It helps to relax tight muscles, and according to Ergolounger, "passively stretches the vertebrae to relieve nerve and disk pressure."

Ergolounger OH Beach Chaise Lounger - Easy on and off
Go from Folding Chaise Lounge to Folding Beach Chair
Return to Beach Fun for Everyone Home

Copyright 2008 - 2023 www.BeachFunforEveryone.com
All rights reserved. This DMCA site is protected under U.S. and International copyright laws. Do Not Copy any Content or Images. No use is permitted without written permission.

All Rights Reserved