The Best Mesh Beach Bag
Looking for a mesh beach bag that will keep your stuff dry and the sand out? You don't need to look any further.  The fabric is made out of a heavy duty mesh that will last for years.  Put wet stuff in it and it dries out, put sandy stuff in it and dry sand falls out of the bottom.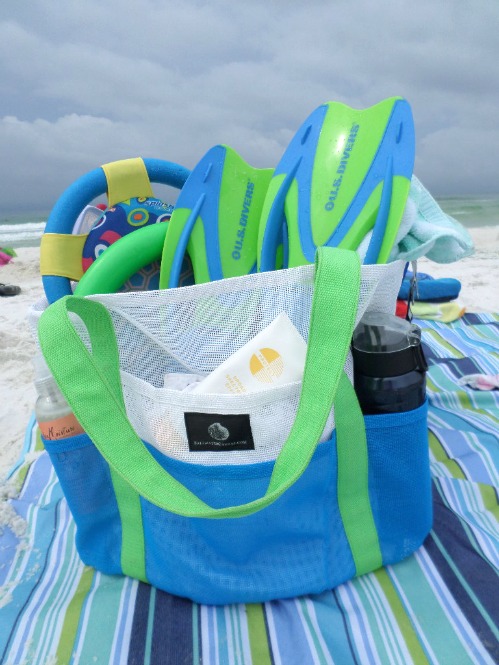 You can tell a mother must have designed it (and it was) because of all the outside pockets - places for water bottles, sunscreen, books, sunglasses, magazines, food, etc.
This beach bag is plenty big -  it holds 6 towels, beach toys, food, beverages, etc.  It is called the Whale Bag and is made by Saltwater Canvas.  There are 8 outside pockets and a zipper pocket on the inside for keys and phone.  It squashes down nicely if you need to get it into a suitcase but stands up right when it is sitting on the sand, the back of your car, or the pool deck.   The mesh of course is waterproof and you can just hose it off for easy cleaning.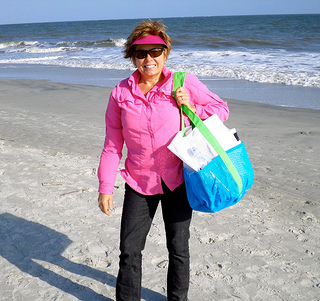 This large carry-all costs around $40 but will last for years. It comes in several different color combinations.  Get yours for the next beach trip at Amazon:
Saltwater Canvas Family Mesh Whale Bag, Sand & Waterproof base, 9 pockets, Blue
Smaller Dolphin Mesh Beach Bag
The bag made by Saltwater Canvas comes in two sizes - the smaller one is called the Dolphin Bag and the larger one (the one pictured above) is the Whale Bag. 

This one holds 2-3 beach towels and beach toys with 7 outside pockets.  An inside pocket zippered pocket holds your valuables. 

Saltwater Canvas Mesh Dolphin Bag, 7 pockets, Medium Beach Tote Bag
Pack in Your Suitcase Mesh Beach Bag
For beach trips that require air travel, this bag folds nice and tight into this pouch so you can pack it easily into a suitcase.
It opens up to a really large bag so there's plenty of room to carry towels and beach toys.  Made of a durable mesh it can be hosed or washed off and any dry sand will simply fall through the holes. 
This one has a drawstring on the top if you want to secure your valuables or gear.   Adjustable straps make it useful for adults or children. 
Raqpak Mesh Beach Bag - Foldable, Extra Large and Sand Proof
Mesh Beach Bag and Cooler
This 2 for 1 cooler beach bag carries all of your essentials from beach towels to valuables to food and drink - all in one bag.  The roomy mesh top provides ample room for bulky items while the two zippered pockets feature a waterproof lining so that your cell phone and wallet are not only dry and sand free but out of sight. 
Pack you water, drinks, fruit and sandwiches for an all day beach vacation and enjoy a cold drink or snack even after hours in the sun. 
Malibu 2-in-1 Mesh Beach Bag with Cooler and 2 Zipper Pockets
Super Lightweight Mesh Beach Tote
Towels, drinks and toys add enough weight to any beach bag, so to get a bag that is super lightweight is attractive to any shoulders.
This Extra Large bag measures over 2 feet long and 2 feet tall.   Nice and deep to throw in all your beach gear.  It's made of a see-through nylon mesh so you can do a double take to be sure you packed the sunscreen or swim goggles.
Of course it can be washed and stored without taking much space - which means you can pack this beach tote in your suitcase.

Lazy Daze and Sunny Days, Extra Large Mesh Beach Bag
>
Cheaper Mesh Bag

For less than $15 this oversized mesh beach bag will provide plenty of packing space for your beach gear. It measures 16.75"H x 24"W x 4"D.
It includes a zippered inside pocket to put your wallet, cell phone, or keys - however the pockets are not waterproof - so beware. 
Sturdy straps make it easy to carry.  Unlike the Salt Canvas beach bags this one has a solid bottom - not mesh - which means less sand gets in the bag - but also less sand get's out.
This bag is very roomy and will hold 4 towels.  What it is missing is all of the outside pockets that the Salt Canvas beach bags have.  If that is not a problem for you than give this one a try:

Huge See-Thru Mesh Beach Bag
Go from Mesh Beach Bag to Beach Supplies

Return to Beach Fun for Everyone Home

Copyright 2008 - 2018 www.BeachFunforEveryone.com
All rights reserved. This DMCA site is protected under U.S. and International copyright laws. Do Not Copy any Content or Images. No use is permitted without written permission.

All Rights Reserved